Smell the flowers, savor the crabs
This is the season for the two Cs - chrysanthemums and crabs.
Related: Flower show becomes magnet for Xiamen tourism
And the best way to savor the two is, enjoy a bucket of delicious hairy crabs and walk off the calories and feast your eyes on the chrysanthemum flowers at Shanghai Gongqing Forest Park.
The 2012 Chrysanthemum Show in Shanghai runs until the end of November.
Occupying an area of about 4,000 square meters, the show displays hundreds of thousands of chrysanthemums, from more than 1,000 species.
The flowers are exhibited in more than 10 different sections. Visitors will get to see plant modeling, miniature gardens and seas of chrysanthemums.
The plant modeling section presents a landscape of mountains, water and traditional totems, all made of the flowers.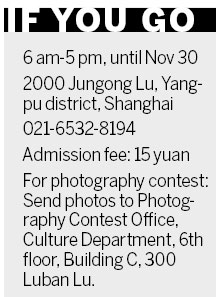 There are 400 pots of fragrant chrysanthemums in the form of miniature gardens. In ancient Chinese culture, chrysanthemum flowers - together with plum, orchid and bamboo - are usually related to literati. The miniature garden with chrysanthemums expresses the history, heritage and innovation of Chinese culture.
A sea of chrysanthemum is located in the center and extends to the Golden Triangle, Activities Center, and the Swan Pond in the park. Among the species are green peony, ink lotus and bead curtain.
In addition to the beauty of chrysanthemums, the show has also organized dozens of activities so that visitors will be able to interact with nature.
The park has organized a photography contest with Shanghai Photographer's Association Xing Guang Branch, inviting visitors to send their photos to the office or the association's forum. The first prize is 3,000 yuan ($480).
In addition, qualified teachers from Shanghai Flower Arrangement Association will give lectures about the flowers and plants, and present flower arrangements using chrysanthemum.
lixinzhu@chinadaily.com.cn