Let's get crabby!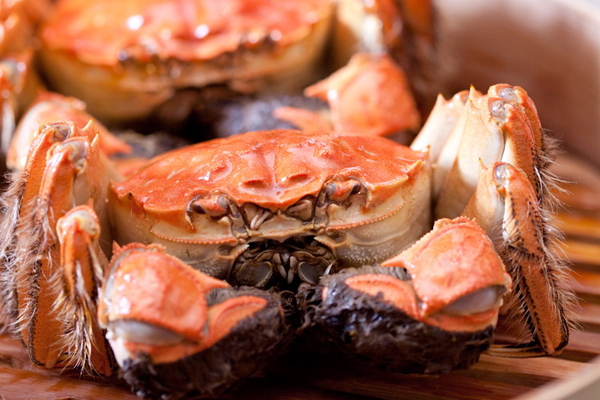 Steamed crabs are served with red wine at Park Hyatt Beijing. Below: Shanghai Lao Fandian (Old Shanghai Restaurant) started serving dazhaxie or mitten crab earlier this week.Photos provided to China Daily
There's no better time than right now to eat these delicious crustaceans.
Autumn is China's biggest crab season. That's very much because the most popular freshwater crabs are at their delicious peak now — meaty and loaded with roe. Beijing's restaurants and hotels are busy presenting their best crab dishes.
Xie Lao Song, a specialized crab restaurant, is holding its 13th annual Crab Festival. Its secret of success is a special "fragrant and spicy" sauce — the recipe, the restaurant says, is as valuable as Coca-Cola's.
Founder Song Hanqiao is said to have used more than 20 seasoning ingredients and nutritious herbs to cook the crabs. The recipe has guaranteed the popularity of the eatery, based in Wuhan, Hubei province, which opened a Beijing branch 14 years ago.
The signature dish at Xie Lao Song is a meaty Burmese mud crab, which is freshly prepared with oil, then fried with ginger, shallots and the special sauce.
Besides mud crab, the restaurant has king crab, Dungeness crab, green hard-shell crab and common box crab as well as river and lake crab to choose from.
The most popular way of cooking is the "fragrant and spicy" pot with special sauce. The restaurant also uses the cooking method for shrimp, wild duck and quail. There are quite a few tasty cold dishes available. Customers who spend more than 158 yuan ($26) per head during the crab festival can enter a lucky draw.
Related:
Shanghai Lao Fandian (Old Shanghai Restaurant) started serving dazhaxie or mitten crab earlier this week. more