A sea of beers to escape stifling heat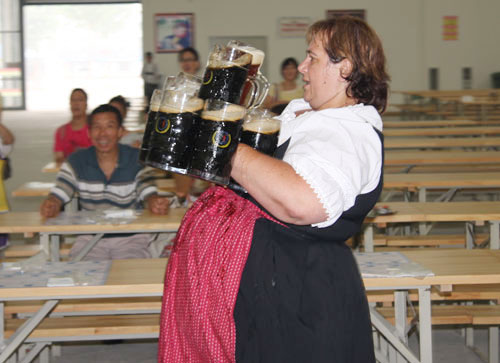 [Photo/China.org.cn]
The capital city's residents will soon be able to escape the stifling summer heat at the 2013 Beijing International Beer Festival, which makes its return on August 15.
This year's beer festival, held at the Beijing Xiedao International Exhibition Center, will offer participants some fabulous chances to taste a full range of authentic beers and food from Germany, served by more than 100 pretty waitresses.
Apart from drinking to their heart's content, participants can enjoy themselves at the Xiedao's City Seaview Resort, as well as pay a visit to the 2013 China International Caravan & Camping Expo (August 15-18) and 2013 Meeting of China Sport Utility and Assembly Vehicles (August 23-25).
Participants can rent a camping tent or RV to spend an unforgettable night there. Dial-a-driver services are also offered.
The festival will run until August 31.
Venue: Beijing Xiedao International Exhibition Center, Xiedao Resort, 1 Xiedao Road, Chaoyang District, Beijing
How to get there: Take Bus 688 at Dongzhimen and get off at Xiedao Dongmen; for those driving, take the Weigou Exit off the Airport Expressway and follow the sign.