Fish swimming in beer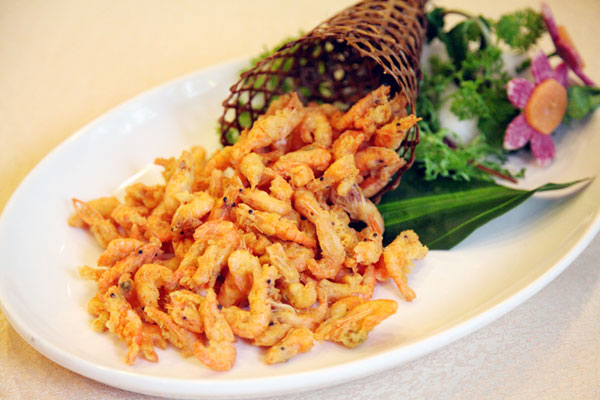 Deep-fried prawns are a fresh catch from the Lijiang River. [Photo by Fan Zhen/China Daily]
Everybody in China knows Guilin is famous for its osmanthus, water chestnuts, betel-nut taro and snail noodles, but Pauline D. Loh finds out there is a lot more to tempt the galloping gourmet.
The scenery is peerless. The air is fresh and moist, and it's like living in a temperate spa. Being near a cool, clear, clean river definitely has its advantages.
For example, you get fresh fish at your doorstep, and also river prawns that make up for their lack of size with almost sugary sweetness. Then there are baby crabs no larger than walnuts that are deep-fried and crunched up along with a couple of tankards of the local beer.
And speaking of beer, good beer needs good water, and Guilin is well known for that. That is why one of the signature dishes in Guangxi Zhuang autonomous region is the river fish braised in beer.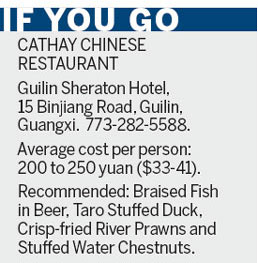 The rich, deep malty tones of the beverage actually go extremely well with the river fish, if you don't mind a few bones and carefully avoid the lethal red chili peppers that are diminutive but fiery enough to have you reaching for a lot more beer.
At the Cathay Restaurant on the ground floor of the Sheraton Guilin, chef Huang Yong has tempered the heat with the addition of red and green bell peppers - cleverly avoiding combustion in the mouth, but still keeping the taste of capsicums strong.
His version of fish in beer comes in an elegant small cast-iron cauldron, balanced on a matching warmer. The fish, cut into large chunks and deep-fried before they are braised in the beer sauce, is simply delicious.
The batter is soft and tender, having soaked up the sauce, but it still retains a slight crunch from the deep-frying.
The fish inside is snowy white, tender and delicate, which makes for a very interesting contrast with the bold flavors outside.
It is a bit like marrying beauty and the beast, and this is probably why it is such a popular order among locals and visitors, served from Guilin to Yangshuo and every small town in-between.