Scientist exchange aimed at improving food safety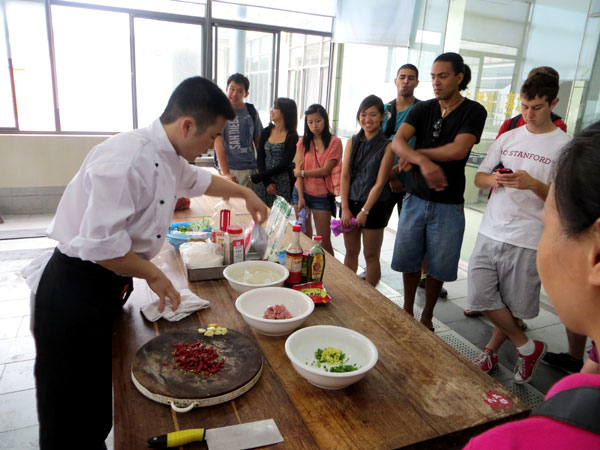 Students from the University of California's Davis get to know Chinese culture by attending culinary courses at Jiangnan University, in Jiangsu province's Wuxi. [Photo provided to China Daily]
Although for many years Chinese cuisine was only prepared within the home or at local restaurants, globalization and the opening up of China have driven a demand for canned, packaged and frozen food products.
In the United States, the science behind packaging food for mass consumption and distribution has developed over decades; that process lags behind in China, where a number of food-safety scandals have made the news in recent years.
An exchange program between the University of California's Davis and Jiangnan University's food science and technology department aims to explore those developments, fostering discussion between American and Chinese students and researchers.
"Taste of China", led by UC Davis department of Food Science and Technology professor Charles F. Shoemaker, sends a group of American students to China for a one-month summer immersion program that includes on-campus lectures in Wuxi, cooking classes and visits to Suzhou, Hangzhou, Shaoxing and Shanghai.
"In the past, people really only came to the US to study food, but these days it's important for our students to get out and visit other countries to learn about their food cultures, too," Shoemaker says.
"So much of Chinese culture is built around food, and I wanted to use the trip as a way to look at China's history and science through the lens of food."
With around 1,800 undergraduate and graduate students and 100 faculty, Jiangnan University's food-science program is ranked China's best and possibly the world's largest, Shoemaker says.
The curriculum is not dissimilar from UC Davis' program, which is also highly ranked.
Students in food-science programs often go on to work for large food corporations like Kraft and Nestle, which employ teams of scientists.
As food products are shipped around the world and can sometimes spend months on a shelf before reaching the dinner table, the chemical stability and safety of the food is absolutely essential.
The scientists tasked with ensuring that the food remains fresh and also tasty, have generally studied food science and technology in programs like those at UC Davis and Jiangnan University.
Food scientists will likely have more opportunities to branch out into the Chinese market in the coming years. A trip like "A Taste of China" is a chance to whet their appetites, Shoemaker says.
Students from other programs at UC Davis have joined the trip, which also showcases Chinese culture and history. Students live in apartments on Jiangnan University campus and classes are also held at the university.
On this year's trip the group visited Yum! Brands, the parent company of KFC in China, to learn about the inner workings of the business.
Chinese food companies are very focused on food standards in the aftermath of various food scandals, some of which resulted in deaths. The bad press and government crackdowns have made food safety a priority.
"There has been a rapid change in the way their infrastructure and distribution systems work, and China is finally catching up," Shoemaker says. "Exchange and research programs are important to that process."