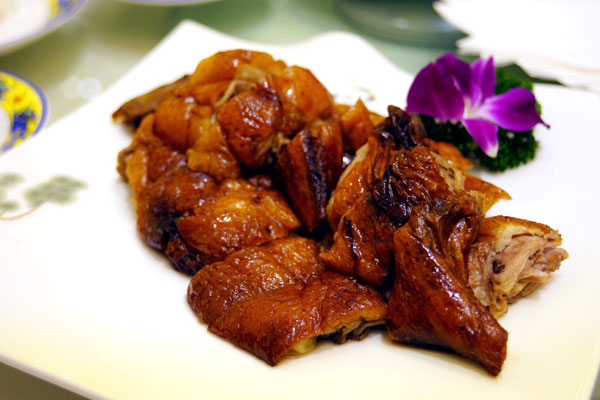 Roast chicken is recommended among the hot dishes selection. Ye Jun / China Daily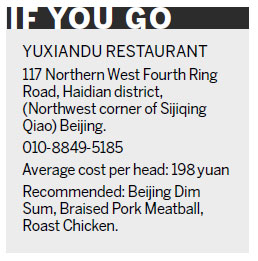 The managers of Yuxiandu are facing a bit of a dilemma.
Before they started a major renovation the government's curb on spending by officials had not been introduced. Now the work is done, management realizes the market for such customers has declined.
On the second floor of Yuxiandu there are two walls of portraits of Chinese generals whose hometown is Shanxi province. The Shanxi-style eatery used to cater to the military, but officers are now scarce, because of the new regulations on public spending.
Yuxiandu, literally, "imperial Xanadu" (the summer capital of Kublai Khan's empire), was previously named Kairui Haomen Shifu, or Glory restaurant. It was a popular place, known for its reasonably priced food on the first floor, and luxurious meals on the upper floors. They made quite good Shanxi-style noodles, and staged rather interesting noodle-making stunts on stage.
The first floor lobby has a Qing Dynasty (1644-1911) emperor's dragon seat in the center, and beautiful white rails around it, good for a picture.
The restaurant has 18 private rooms on the second floor, each named after some kind of "palace". They also serve imperial vegetarian set meals in the rooms, priced from 198 to 588 yuan ($32-96) per head.
After the renovations the formerly reasonably priced first floor has been converted into a China Imperial Cuisine Museum. Next to the museum is a grand dining hall with a stage. Here there is a Beijing style Manchu and Han nationality "feast" starting at 6:30 pm, with hot dishes at 6:50 pm, and a dance show beginning at 7:20 pm.
China Imperial Cuisine Museum is a bit scholarly in style. It provides a history of how and what the Chinese have eaten since primitive times, with models of two cavemen making fire right next to the entrance.
If you are interested in what Chinese emperors ate, how their meals changed, and what foods were introduced into China at what stage, then the display of literature and model dishes will provide the answers.
A guide clad in Qing Dynasty dress explains what the displayed items are. Most of the text explanations only have the title translated into English.
The "complete Manchu and Han" feast is a combination of Beijing style dim sum, appetizers, and popular Chinese hot dishes. Food quality is satisfactory. Just when you are eating the appetizers, the gate to the big dining hall opens, and actors dressed in Qing Dynasty imperial dresses parade around.
The setting is of a Chinese emperor receiving guests from abroad, who then perform ethnic dances. There are lantern, Korean and belly dances, in addition to acrobatic performances.
As for the food itself, there is a small soft-shelled turtle soup, which is considered nutritious. Other major hot dishes are a roast chicken, braised pork elbow, pork meatball, fried lotus root, and an oily cabbage pot. As people dine the acrobatics make them a bit nervous, but certainly hit up the atmosphere.
The restaurant serves combo-meals from four to 10 people at a table. The table for four costs 1,566 yuan ($255), while the table for 10 costs 1,968 yuan - so big groups do well.
If you ask, the managers of the restaurant might take you for a tour of the kitchen. Before entering everyone needs to wear sterilized clothes and hats.
The restaurant has also prepared ancient-style clothes to wear, if you are in the mood.