Chinese cuisine and the shift forwards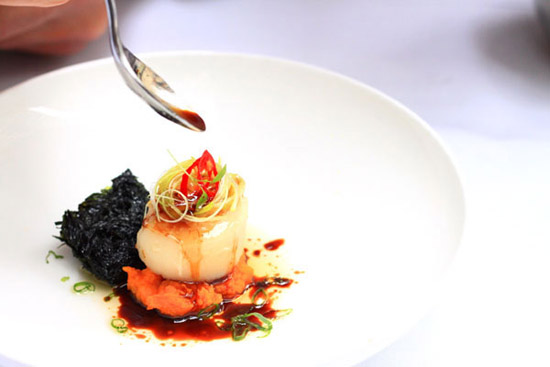 Alvin Leung's take on the scallop. [Photo/CRI Online]
Food is one edge of culture that can push forwards pretty fast. And the urban centers are where Chinese food is covering uncharted territory. Classic dishes hold their ground and always will, but sometimes sushi squeezes into the back of the same menu. Also increasingly more restaurants in Hong Kong, Shanghai and Beijing are reinterpreting traditional Chinese cuisine in ways that would delight (and possibly disgust) the old gastronomic scholar Su Shi.
"A contemporary Chinese restaurant, to me, would be a restaurant that takes Chinese cooking and tries to expand it to a new level," quipped Time Out Beijing food editor Sean Silbert, mentioning Michelin star chef Alvin Leung, who recently visited Beijing.
Leung's restaurant, Bo Innovation, made its reputation selling "X-Treme Chinese" cuisine, a daring combination of fusion and molecular gastronomy. (Molecular gastronomy is a new culinary style which applies technological innovation to create flavors and textures previously impossible). "Leung's the kind of guy that does xiaolongbao, but with egg drop soup inside," explained Silbert. "Modern Chinese food takes Chinese culinary traditions and doesn't just run on the history, but makes it their own and does something a bit more interesting."
The vast variety of Chinese foods is proving to be an unexplored playground for modern and fusion cuisines. Fusion food is particularly relevant in today's shrinking but global-minded world. The likes of Mexican pizza or the California roll are now ubiquitous across the planet, having sunk their teeth into mainstream cuisine.
But fusion food has its share of detractors as well. Silbert, in his off-the-cuff manner, described fusion food as "stupid; and it shouldn't be encouraged." He cited chefs who slam together elements from disparate cultures to see what sticks, noting that the results are often "kitschy." He shortly remembered himself and backtracked, just a bit. "Sometimes it works … but it takes a very-trained chef to do it," he conceded.