Zheng's world on a Beijing plate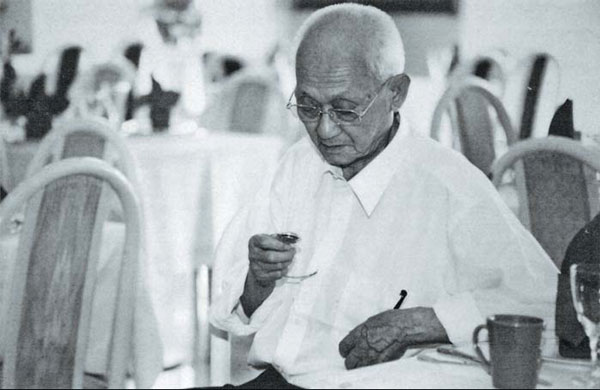 The late master chef Zheng Weizhi at Weilan Restaurant, which he founded in 1982. Provided to China Daily
The oldest Western restaurant in Beijing is a family business that is still nurtured by the founder's children, and treasured by its faithful regulars. Sun Ye uncovers the stories behind the years.
Wang Qilai has been going to the same restaurant for 25 years and he has never been disappointed. In fact, he credits it with having introduced him to Russian braised beef and opening his eyes to Western cuisine.
Weilan Restaurant, China's first privately owned restaurant offering Western-style cuisine post-1949, is a historic institution, but Wang cares little about its past glory. What Wang cares about is the fact that the restaurant guarantees him and his family "a pleasant meal every time".
"The first time I was here, the food was as good as the upscale Moscow Restaurant but cost a fraction of the price," Wang says. "The boss was engaging and the atmosphere was home-like."
That was in 1987, and since then Wang has been a faithful diner at Weilan, shunning all other Western restaurants.
"Why go to another place when I have all I want here?" he asks. "Weilan has never let me down."
His testimonial confirms the vision Zheng Weizhi had when he founded the restaurant in 1982.
Already 60 then, Zheng had just retired as a well-paid chef who enjoyed recognition and appreciation from the various ambassadors and embassies he had worked for. He was used to chiefs of missions coming into his kitchen and giving him the thumbs up.
He also had a secret wish to revive the family's former restaurant, which had existed in the 1930s, but had to stop operating because of the wars.
The teenage Zheng had learned all about English, Russian and French cuisine in the family restaurant and never forgot where he started.
"I heard a lot about the old family restaurant from my father when I was growing up," Zheng Haibin, 56, says. "My father really wanted to revive the family business."
The year was 1982, and becoming self-employed was no small matter. It was only a couple of years after the reform and opening-up policies were initiated. It was still the norm for a son to inherit his father's job, and a posting in a work unit was an iron bowl which would take care of the employee from cradle to grave.
When Zheng Weizhi decided to start his restaurant, all three sons refused to join him, and opted to protect their iron rice bowls.
But Zheng was not to be deterred.
"My father has been through a lot working with diplomats, he must have been confident about the future," Zheng Haibin says, with hindsight.
With a 1,000 yuan (about $667 then) loan, Weilan Restaurant started with nine tables in three rented rooms. It did not even have a proper faucet.
The tiny restaurant was near the Summer Palace, where Zheng hoped the professors and staff from the nearby universities could come, dine, enjoy themselves and spread the word.
Zheng had the right formula, and it did happen that way, but not immediately. In the beginning, there were days when the restaurant only sold a single cup of coffee that cost half a yuan. But the determined owner stuck to his guns and management philosophy: Treat every customer like an ambassador and a family friend.
"We don't skimp. It's the secret of success," Zheng Haibin says.
When the restaurant started, the older Zheng bought spare food stamps from friends and stocks from his former embassy suppliers. Cheese, butter, peanut oil were all imported, as they still are today.
He also insisted on super stringent standards. At a time when disinfectants were almost exclusively used in hospitals and dish-warmers were almost unheard of, Zheng insisted on a five-step ritual that included rinsing the plates in disinfectant and keeping them warm in a thermostat oven.
He also did a survey among Beijing's State-owned Western restaurants and set his menu prices at less daunting levels. A serving of roast beef was 1 yuan. At an exchange rate of a dollar to 1.5 yuan in 1980, it would have cost a factory worker less than a day's wages. Other foreign restaurants would have charged five times as much.
By making his quality food affordable, Zheng's business picked up before the loan term ran out. People lined up for a seat at lunch and dinner. The income started trickling in.
The restaurant soon became a "10,000 yuan household", a popular term at that time describing self-made businesses such as Zheng's.
In 1984 China Youth Daily claimed that the three most popular occupations were taxi drivers, self-employees and chefs. Two years into private business, Zheng was already two of the three.
In September 1985, Richard Nixon arrived in Beijing and the former US president came to dine on roast beef and chicken consomme.
Weilan became known as the president's dining room, and a place where luminaries came to eat, including President Xi Jinping and his family. Chinese rocker Cui Jian, playwright Ying Da and basketball player Wang Zhizhi are among the regulars.
The restaurant has been refurbished but it is close to its original site. Weilan now has about 40 tables, all of which are packed on weekends. It also has a branch at the other end of the city.
Now, all three of Zheng's sons help out at the restaurant. "I think my father was quite a pioneer," Zheng Haibin says. Early this year, the elder Zheng was talking about opening another branch in the popular tourist hutong Nanluoguxiang.
But the story stops here. The jovial master chef with the big dreams passed away several days after the Lunar New Year, at the age of 92.
Now, Zheng Weizhi's favorite portrait is placed at the entrance of his restaurant, and his smiling countenance still greets each customer with the same warmth and hospitality that has been his trademark since 1982.