Filipino flavors delight taste buds in Beijing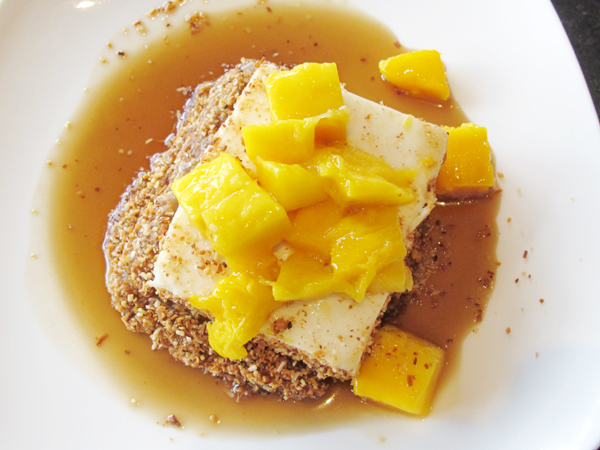 [Photo by Mike Peters/China Daily]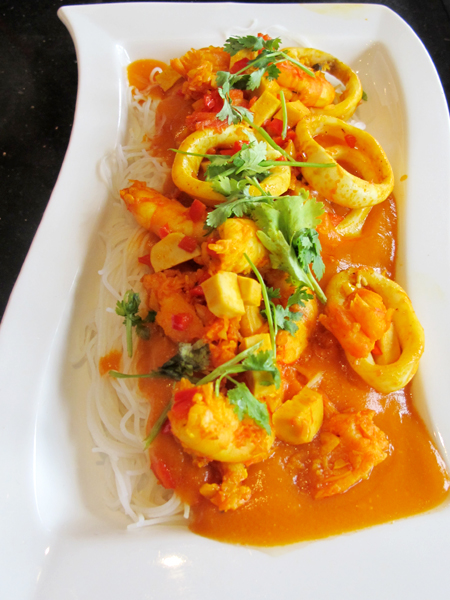 [Photo by Mike Peters/China Daily]
Grilled chicken Bacolod-style. Philippine-style noodles in prawn gravy. And the sweet rice cake known as Suman.
For Beijingers — especially expats from the Philippines and other Southeast Asian countries — the aromas of these dishes being prepared recently at the Westin Chaoyang hotel brought sighs of contentment even before the first forkful was consumed.
The occasion was the two-week Philippine Food Festival, which ends on Sunday, and guest celebrity chefs Roland and Jacqueline Laudico were cooking up a storm.
Treats from Manila and other parts of the island country drew an appreciative crowd of women last week for an ASEAN Ladies Club tea party — a cooking demonstration and light buffet hosted by Philippine Ambassador to China Erlinda F. Basilio.
One reason for the big turnout: There is no Filipino restaurant in China's capital, despite the relatively short distance between the two countries.
Another draw, Roland Laudico says, is that Filipino food is Chinese at its roots because many Filipinos have Chinese blood.
"We're not just neighbors — we're brothers and sisters," the chef says.
That affinity is clear in the cuisine.
Regional produce — coconuts, mangos, annatto oil and a distinctive shrimp paste — give Filipino dishes flavors and combinations all their own.
Diners at the food fest hosted by the Westin have feasted on tiger prawns in crab roe sauce, mud crabs simmered in coconut milk, beef in peanut sauce and about two dozen more dishes that have dominated the dinner buffet at the Westin this month.
That has included a jam-packed dessert table. That's Jackie Laudico's specialty.
"Desserts take a lot of patience, and she's got tons of it,"says her admiring husband, who startled her with a marriage proposal on an amusement park ride.
For the festival, she has served up an ethereal mango meringue cake and cloying sweet coconut custards among other goodies.
For the Laudicos, cooking is a family affair.
"I love being around my kids," says Roland Laudico, a Culinary Institute of America veteran who says running his own businesses and doing a lot of catering means a lot of family time in the kitchen.
One of his favorite "dates" with his wife is cooking and sharing a meal in the kitchen after their Bistro Filipino restaurant closes in Manila.
The family of four has been in Beijing for almost two weeks, cooking pretty much nonstop except for a daytrip to the Beijing Zoo.
"We loved it," Jackie says.
"We've been to a lot of zoos in Asia, but we still saw lots of things that were new to us — not just pandas but some different monkeys and other things."
The Laudicos prepared several traditional dishes for the ASEAN tea party at the Westin. Grilled Chicken Inasal (recipe below) represents a traditional southern Filipino style of grilling with annatto and lemongrass spice. Seafood Palabok — one of the country's most popular noodle dishes — is served in a rich shrimp sauce topped with adobo seafood. Suman cake is a traditional sticky rice cake cooked in coconut cream.
Most of the ingredients are readily available in Beijing with the possible exception of annatto oil or powder — scout the foreign markets, especially Indian grocers, if you don't find it at your regular market.
IF YOU GO
Flavors of the Philippines, through June 30.
Seasonal Tastes restaurantWestin Chaoyang Beijing Hotel, 7 East Third Ring Road North, 010-5922-8888.
Buffet price is 228 yuan plus 15 percent for lunch; 348 yuan plus 15 percent for dinner.