Small menu, major Italian flavors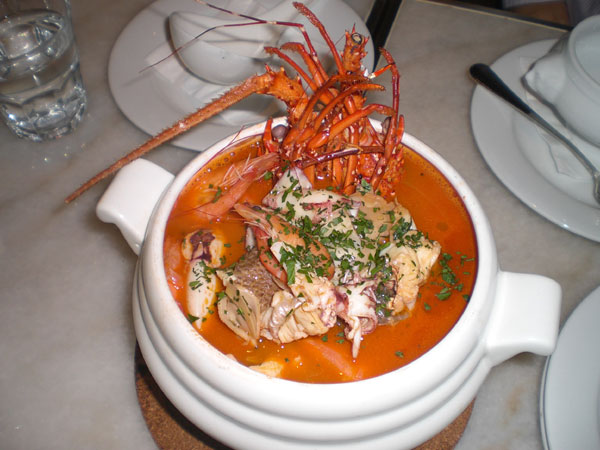 Cioppino is a signature seafood dish of Piccolo Pizzeria & Bar in Hong Kong. [Photo provided to China Daily]
The Italian word "piccolo" means diminutive or small and according to Randy See, the man behind the Piccolo Pizzeria and Bar restaurant chain in Hong Kong, they are staying true to their name with a "small menu and venues that are cozy and intimate".
The third and newest location is in bustling Wan Chai. Piccolo is located on a side street across from the historic 1888 building that was once a pawn shop and is now home to The Pawn.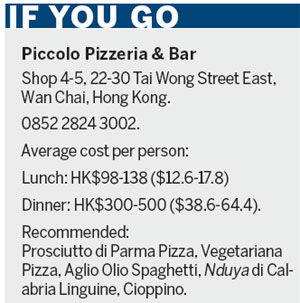 Piccolo in Wan Chai is bigger than the chains at other locations and has a large window at the back of the restaurant with a view of the kitchen and the wood-fired pizza oven. "The wood-burning oven gives our thin-crusted Roman-style pizzas a smoky flavor that really makes a big difference," See says.
We sampled the vegetariana pizza (HK$130) ($16.74) made with grilled zucchini, eggplant, artichokes, peppers, and black olives. The thin-crust was crispy around the edges and soft and slightly chewy in the middle. The pizzas would be great with a beer or two once Piccolo gets their liquor license. As with most new restaurants in Hong Kong, Piccolo is still waiting for the license to be approved.
This slightly larger Piccolo also offers daily specials based on produce that is currently fresh and available at the local markets. On our visit, they were featuring cioppino (HK$450; serves three to five), a tomato-based seafood stew invented by Italian immigrants to San Francisco, California.
The seafood is served in the shell, which is traditional, and includes whatever is fresh and available. We were treated to local lobster, baby squids, red snapper, shrimps, and clams in a fish broth that had been simmered for hours with tomatoes before the addition of the catch-of-the-day seafood. It was the perfect dish for the cool, rainy and gray afternoon we visited.
For pastas, diners can choose the type of pasta and pair it with one of the eight sauces. We had two pastas, a aglio olio spaghetti (HK$120), a simple dish with roasted garlic, red chili, and olive oil; and nduja ("en-doo-ya") de Calabria linguine (HK$180), made with the spreadable salami-like nduya sausage, fresh shrimps, and chili.
Both pastas were cooked al dente and both had a touch of heat from the chilies. The nduya is reminiscent of a soft chorizo providing bold flavor and saltiness to the dish. There are only two desserts offered and we chose to end the meal with a panna cotta (HK$60) with fresh fruit. Served in a parfait glass, the serving was generous and I was happy to share. Sweet and not too heavy - just the right dessert to end a big meal. The other dessert is tiramisu (HK$60).
A set lunch menu is also available starting from HK$98 for two courses.