Chinese food in Jewish world, kosher or not?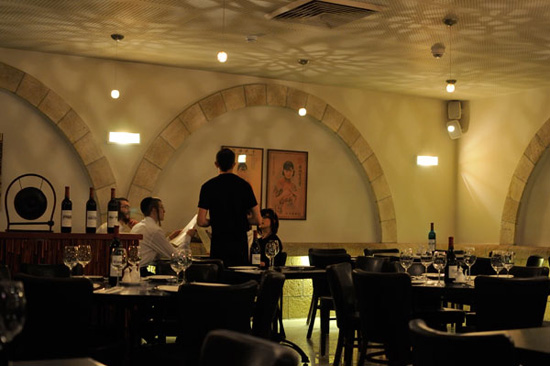 A waiter serves religious Jewish customers in Sheyan, a Chinese food restaurant owned by an Israeli boss in Jerusalem, on Sunday, May 5, 2013. [Photo by CRIENGLISH.com ]
Restaurants featuring Chinese food in foreign countries have always been judged whether their dishes keep the original Chinese style or not, but in the Jewish state of Israel, restaurant owners have another thing to consider - Kosher or not.
Kosher foods are those that conform to the regulations of Jewish dietary law. The most commonly known rule is that typical Jews don't eat pork. Most seafood is also forbidden unless it has both fins and scales.
"You can't ask for everything," said Ma Peizhen, a co-owner of a Chinese restaurant in Tel Aviv, "you have to choose what kind of customers you want to keep."
Coming from Hong Kong, Ma has lived in Israel and operated restaurants here for over 30 years. Her current restaurant "Hayam Hasini" was opened 13 years ago near the Tel Aviv beach, featuring seafood.
Ma tries to keep the Chinese flavor as possible. All the chefs in her restaurant are from the Chinese mainland. "Chefs from here or Hong Kong just can't make the flavor right." She also brings ingredients like broad bean paste from China to keep the original flavor. But she admitted that Jewish people prefer the alleged Chinese food adapted to the local taste.
"Jews like food with strong flavors, and they prefer it sweeter." Only three restaurants in Tel Aviv are owned by Chinese. There are several Chinese food restaurants with Jewish owners, to Ma, their food is not Chinese food at all, but they are more acceptable by locals.
Ma said most Jewish people don't really know what Chinese food is. In their opinions, Chinese food is greasy and unhealthy. But with more Jewish people traveling or doing business in China, some come to her restaurant specially to order more original Chinese food.
Many Jewish businessmen bring their Chinese partners to the restaurant and recommend the food to their friends who also do business with Chinese people, but they never come here with their families. Maybe because it's not kosher, said Ma.
To save her business, Ma began to contact with travel agencies like she used to do in Haifa years ago. Currently group tourists take around 40 percent of her business, another 30 percent are Jews, and the rest are diplomats, companies and Koreans working in Tel Aviv. They also offer business lunch for people working around. Although Ma doesn't want to change the original Chinese style, they have to change the flavors a little bit according to different customers.
The chefs can tell where the customers come from only by the dishes they order, said Ma. Jewish people only order certain dishes, so as Koreans and so on. For Chinese tourists, she always asks from which provinces they come and tells the chefs to cook according to the flavors they prefer.
Sangpagk Lee, a Korean who has worked in Tel Aviv for three years, come to Ma's restaurant every two or three months. Lee said there's no Korean restaurant in Tel Aviv, so many Koreans choose Chinese restaurants and the food here makes them satisfied. "We do not care they change it or not. The food is tasty for us, that's why we come here."
In another Chinese restaurant in west Jerusalem, the story is totally different. Owned by a Jewish boss who can speak fluent mandarin Chinese, the kosher restaurant "Sheyan" is described on its website as "a captivating merge between Jerusalem's eclectic atmosphere and China's traditional cuisine".