Fresh from the sea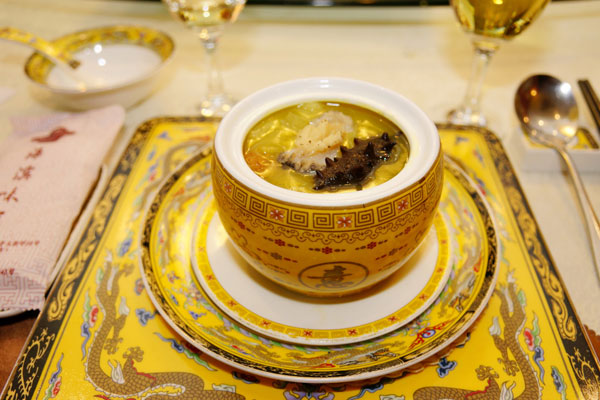 "Buddha jumps over the wall" offered by Hai Bin Wei Bao.[Photos by Ye Jun/China Daily]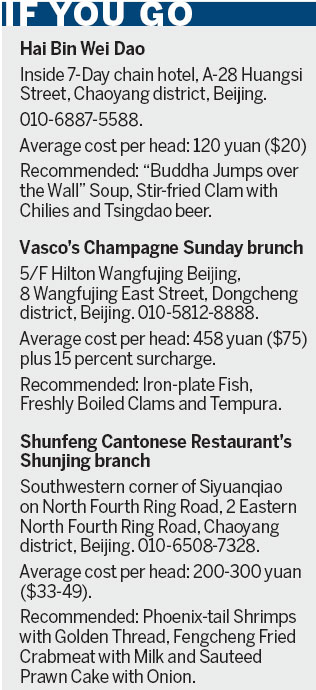 A mixture of seafood - sea cucumber, abalone, fish maw and soft turtle top shell - and pork tendon is boiled for 20 hours in a mixed broth of chicken, duck and pork bones. The result is a tasty mixture of seafood in a delicious pot of golden-colored soup.
The restaurant no longer uses shark fin, but instead puts in high-quality sea cucumber.
The item that the restaurant is promoting is its seafood soup. For those who order the seafood soup, pay an additional 18 yuan, and get a prawn stewed with turnip slices that originally costs 68 yuan, or a clear soup with abalone originally priced at 78 yuan.
The Qingdao-style restaurant provides some typical local specialties, such as Laoshan Mountain's fried mushroom with pork slices, stewed squid with bean curd, sauteed dumpling with prawn stuffing, and baozi buns with sea cucumber.
These seafood can be washed down with top-quality Tsingdao beer, priced at 16 yuan a bottle.
For those looking for top-notch seafood feast, check out Vasco's Champagne Sunday brunch, available from May 19-July 12.
Alaskan king crabs, baby lobster and whole tuna set the tone for a high-end seafood feast.
The restaurant offers a range of freshly shucked oysters: French fin de claire, South African oysters and Tasmanian oysters. There are also fresh tuna and salmon sashimi.
Another attraction of Vasco's seafood brunch buffet is the different styles of cooking. Fresh clams and squilla are boiled on the spot. Fish and shrimps are prepared on a hot iron plate on demand. Chefs are also happy to make shrimps and squids into tempura, a la minute.
There is also seafood fried in hot dishes, Chinese style. Moreover, the restaurant has a delectable selection of desserts, and tasty Cantonese roast meats.
Another restaurant that is holding a seafood festival is Shunfeng, a high-end Cantonese chain restaurant that specializes in seafood in Beijing.
The restaurant, which has flourished in the past 20 years, has set aside 10 of its most popular dishes and 20 classic Cantonese cuisines for the promotion. During the festival, Shunfeng offers a 12-percent discount, with prices of dishes starting from 40 yuan.