Finding poetry in a glass bowl
Tome in a teacup | Zhou Yutong & Sun Ye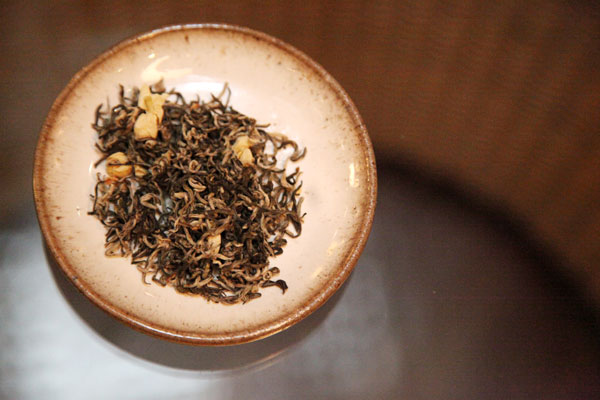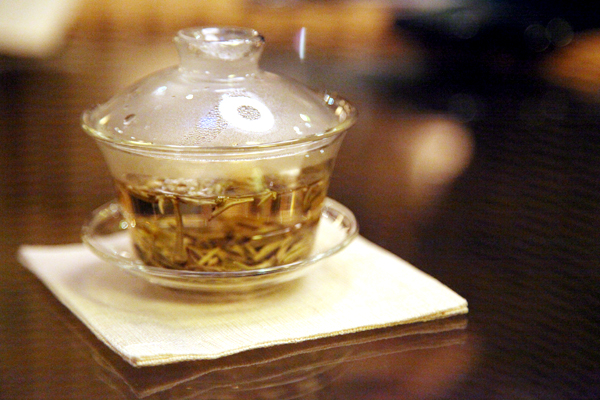 Bitan Piaoxue is an artistic tea both before and after brewing. [Photo by Fan Zhen/China Daily]
Bitan Piaoxue has a name that says it all. "Bi" is the luxuriant green of a deep forest, while "tan" is a serene pool of clear water. "Piaoxue" is a clean drift of
refreshing pure white snow.
It's a jasmine-scented tea, the first of its kind to add flower buds in the tea leaves, and is probably the most fragrant among the jasmine teas.
Bitan smells like a bouquet of jasmine, the result of an infusing process that mingles the green tea leaves, or tea base, with jasmine buds for more than 12 hours for the tea to take on all the perfume.
It is an artistic tea both before and after brewing. The tea leaves themselves fire the imagination with their little specks of pure white among the dark. In the cup, the landscape blossoms in water as the tea and buds unfurl.
The best visual effect comes with a glass cup.
Place the hot water in the glass and scatter a small handful of Bitan. In less than a minute, green tea leaves will tint the water green, rehydrate and slowly sink. In contrast, the white jasmine petals continue to unfold and float. The sweet fragrance will scent the entire room and you will experience snow on green in summer.
But do not linger too long, however poetic it may seems. Left in the cup too long, Bitan may become bitter, so it is best to drink it fresh in little glass cups.
Bitan, like most other scented tea made with flowers, is highly functional. Jasmine tea helps in diffusing bad qi and ridding the body of unhealthy elements. A slightly different version of Bitan made with peach blossoms is especially effective for weight loss, also ladies are reminded that it must be drunk in moderation.
Since green tea leaves are usually best available locally, properly scented tea is usually found only in the Sichuan neighborhood. For residents in Beijing, the next best scented tea is from Wuyutai, a trusted old name.
Zhou Yutong is the tea sommelier at Four Seasons Beijing.
If you go:
Four Seasons Hotel Beijing
No.48, Liang Ma Qiao Road, Chaoyang District, Beijing 100125
Tea column:
Dragon's brew is the drink for spring
Get a noseful of that old black magic