Gold leaf tea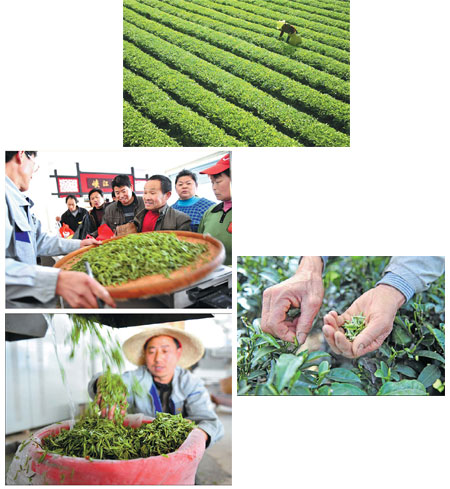 Top: An employee at a tea production base in Chongqing's Yongchuan district harvests spring tea. Chang Xu / for China Daily Above left: A quality inspector in Hubei province's Yiling assesses tea leaves that have just been picked.  Left: A factory worker in Yiling packs tea. Above: Yiling produces first-class tea, which provides farmers a 30 percent increase in their annual income. Photos by Zhang Guorong / for China Daily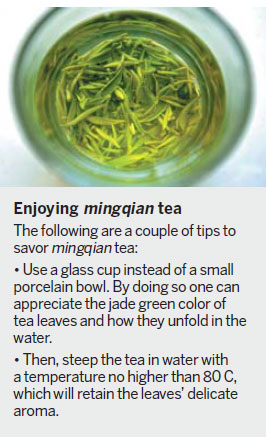 Mingqian tea is more affordable this season, allowing the ordinary drinkers to enjoy this great cuppa
Editor's note: A Chinese saying suggests that "mingqian tea is as precious as gold".
The tea leaves that are handpicked before the Qingming Festival are highly rated for their rich fragrance and tenderness.
Additionally, because of the low temperatures in early spring, less mingqian tea is produced than in the later, warmer months, making it highly sought after, especially in the high-end market.
Famous mingqian tea production bases include the West Lake area in Hangzhou, Zhejiang province, the southwestern mountainous region of Xinyang, Henan province, and the Dongting Lake area in Hunan province. Cultivating and processing tea are an important source of income for villages in these areas.
For instance, the Yiling district of Yichang, Hubei province, is recognized as the birthplace for excellent tea. More than 145 villages and towns have formed a vast tea-planting area of 14,000 hectares. The tea trade brings local farmers a 30 percent boost to their annual income.
The price of mingqian tea has dropped due to an increased yield this spring and cutbacks on business gifts. This is, however, good news for ordinary tea consumers for whom it was often unaffordable.