Stop when you're hungry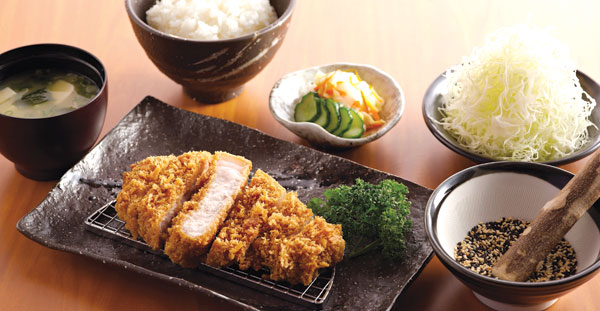 The pork tenderloin set meal is a speciality of Saboten Japanese Cutlet at Parkview Green in Beijing. [Photo by Ye Jun/China Daily]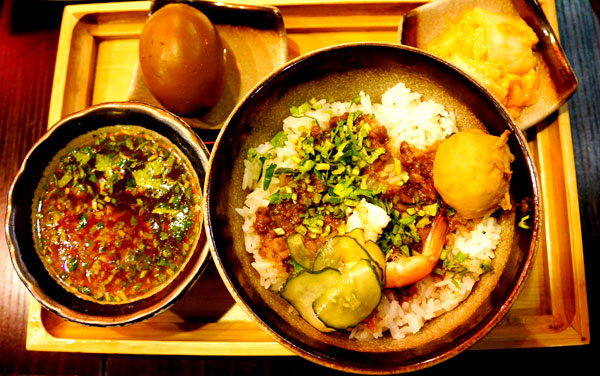 Customers often pack Du Hsiao Yueh during lunchtime for its braised meat rice sets. [Photo by Ye Jun/China Daily]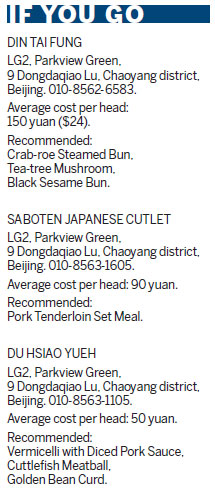 Parkview Green offers some tasty stops when you are tired from shopping, Ye Jun reports.
Parkview Green is the latest hangout for many of the capital's fashionable young people. Just opposite the west side of The Place on Dongdaqiao Lu, the complex is a mixture of office building, shopping mall, art center and hotel.
Besides many eye-catching artworks in the building, there are a few high-quality restaurants worth visiting on the underground second level.
Din Tai Fung, known for its steamed buns, set up a new branch in one corner. It's less spacious than its other restaurants, but the interior design is compact and comfortable, with warm lighting. Wooden frames divide booths with soft seats, for four people, and even for two people.
Some foodies say the crab-roe steamed buns in Beijing, a signature dish, is even better than that in Taiwan, Hong Kong or Singapore. With its abundance of rivers, the Chinese mainland's river crab roe is fresher and therefore taste better.
Another delicious variety is steamed buns with black-truffle stuffing. Biting open the buns, you can see that the stuffing is black with truffle, and the aroma is apparent. Black truffle pairs well with pork, both in steamed buns, and in jiaozi.
A new stuffing is Korean kimchi, which tastes a bit spicy. The kimchi helps to chase the grease of pork buns.
At Din Tai Fung, there are so many other good choices apart from the buns. The cold dishes look and taste delightful: bean-curd slices and vermicelli, sweetened river shrimps, and delicate tea-tree mushroom. The beef soup is loaded with very tender slices of beef. Sour and spicy soup tastes even better than at some classic Shandong-style restaurants in Beijing.
For a discovery, try black sesame buns, beef noodles and fried rice with eggs and pork slices. These offer a high quality matching that of the steamed buns.
Another two restaurants are both the first branches of famous fast-food joints in China. Established in 1966 in Nishi Shinjuku, Saboten Japanese Cutlet has 500 branches in Japan, according to the restaurant manager.
The restaurant offers a beautiful pork loin topped with tender, tasty egg. But I prefer the very crispy pork tenderloin chops. Both come in a set meal with rice, miso soup, cabbage slices and several saucers of appetizers. The rice, soup and appetizers can be refilled.
Du Hsiao Yueh features danzi noodle, those sold on a carrying pole, which has a history dating back to 1895 in Taiwan. The secret of the noodle is diced pork to give it flavor, along with mashed garlic, coriander and shelled shrimp.
The manager asks customers to first stir in the diced pork evenly, and then smell and drink the soup, before digging in for the noodles. The noodle is a snack known to every household in Taiwan. The restaurant also offers rice, and vermicelli versions with the diced-pork sauce, along with a delicious marinated egg, a bowl of shrimp-head soup and a saucer of spicy brined cabbage.
Du Hsiao Yueh is so famous that the restaurant sees a full house quite often during lunch.
The restaurant provides a few small dishes, too, besides its famous noodles. They offer an excellent cuttlefish meatball, and a very tender golden bean curd.
Quite a few high-end shops have opened or will open soon at the shopping mall. If you are into shopping, it is worth a trip down to Parkview Green. It's a pleasant opportunity to discover some good food at the restaurants there.