Marinated meats worth flying for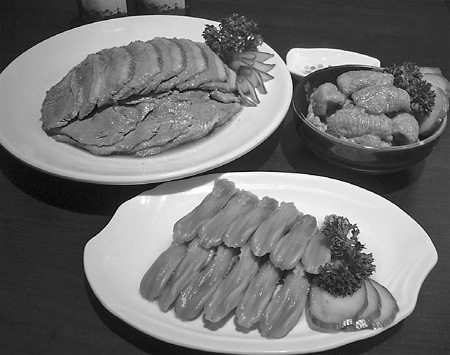 Sliced goose in marinated sauce, chicken leg tendons in mustard sauce, and duck tongues in Chinese liquor. Donna Mah / for China Daily
Hong Kong
Classic braised meats that are cooked long and slow and with a secret blend of spices can result in a magical alchemy of good taste. Donna Mah samples the delights of the Michelin-starred Hung's Delicacies.
When it comes to slow-cooked marinated meats, it's always been "How hard can this be? But once I tried making them myself, I realized just how hard it could be. Theirs is an art of getting the spices right, the level of saltiness right, the temperature of the marinade, and how long the meats should be cooked right. Cooked too long or at too high a temperature and you have soggy, crumbly results.
Cooked too quickly and you end up with tough, stringy, tasteless meat. I was humbled by the experience.
I had heard about Hung's Delicacies in North Point and that they had earned a Michelin star for their food in 2010 and 2011, but did not feel like braving the hour-long lines just to sample the food. Fortunately, they were invited to open a branch at the Hong Kong International Airport by Select Service Partner, the company that manages restaurants at the airport, and that outlet is still currently queue free.
Before the lines and the Michelin stars, Hung's Delicacies was a humble Chinese bistro that was, in the words of its veteran chef Lai Wai-hung (Ah Hung), "a way to pay the bills and provide for my family." He certainly never dreamed that he would be awarded a Michelin star and recognized on the streets of Hong Kong like a celebrity.
Ah Hung went on to say that he did not have much education and started working in kitchens as a way to make a living, but his love for cooking and food developed and grew.
When he started his own shop, he initially served Cantonese-style barbecued meats and wonton noodles, later expanding into marinated dishes.
Though he says all his dishes are "signature" dishes, the most talked about are the duck tongues in Chinese liquor, sliced goose in marinated sauce, chicken leg tendons in sesame oil, braised assorted vegetables with red marinated tofu sauce, and Chua Lam's lo mein.
The lo mein is a specially blended noodle with a secret Chinese marinade and rendered pork fat that was developed with the support of Hong Kong food critic Chua Lam. Chua Lam is a big fan of lard for the flavor it adds to dishes.
Traditionally, marinated dishes are associated with Chiu Chow-style Chinese cuisine, but Ah Hung is not originally from Chiu Chow or Chaozhou of Guangdong province, and he has created his own style.
He says his marinades are adapted to the lighter Cantonese palate, "The marinades we use are less salty and the spices are more subtle."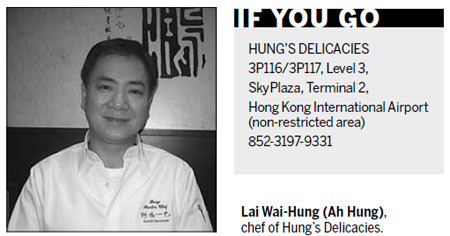 It seems that the non-traditional marinade using traditional cooking techniques is a winning combination for Hung's Delicacies.
Ah Hung says he serves only fresh chickens from Hong Kong and the mainland, and explained that the texture of frozen chickens is up to the standard he requires. As for the famous marinated goose, it's shipped from Dongguan where the geese are raised from goslings brought in from Chaozhou. Ah Hung says the geese he uses must be from there to have the right meat-to-fat ratio.
A meal at Hung's Delicacies is HK$70-100 ($9-$12.80) each person (no service charge).
You may contact the writer at sundayed@chinadaily.com.cn.