What, no kitchen?
Authentic Chengdu-style hotpot is available in the capital with the opening of Jinting Hotpot Restaurant at Beijing Workers Stadium.
It is said a Chengdu hotpot restaurant kitchen is usually messy because of the huge variety of food ingredients, but the owners of Jinting have decided on a restaurant with no kitchen instead.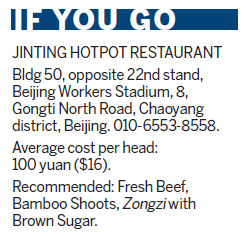 Kirin catering group, which owns Jinting, has built up a food production and distribution chain and produces all the ingredients for a Chengdu-style hotpot in Sichuan, and then transports them to Beijing.
So, when customers see the ingredients, they are all in clean, neat boxes. There is, therefore, no need for a standard kitchen, or chefs in the restaurant, according to general manager Fu Tianning.
Even the oil and flavoring ingredients come in canned bottles. Rather than a sesame sauce, the recommended option is clear sesame oil, with garlic and coriander.
Order fresh slices of beef, lamb rolls, along with freshly mashed shrimp and pork meatballs. If you can tolerate unusual ingredients, Chengdu hotpot offers pork or beef giblets, duck intestines, and bean curd made with pork blood.
As for vegetables, there is the usual combination of cucumber and lettuce rolls, mushrooms and bamboo shoots.
The restaurant's dessert, tiny glutinous rice zongzi with brown sugar, is a must-try. And do leave some room for douhua, soft bean curd, and dandan noodles, which are typical Chengdu delicacies. The high quality of these dishes at Jinting is sure to make you want to return.
yejun@chinadaily.com.cn