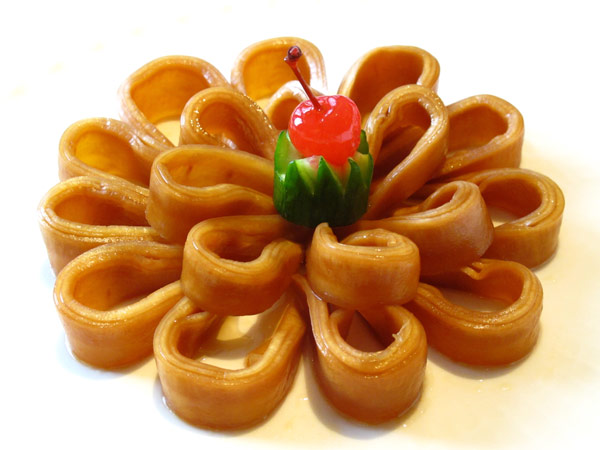 An unusual pickled radish is served up in Yipin Huaiyang style.
Picturesque scenery inspires chefs to create cuisine that complements the ambience. Ye Jun takes time off to relax in a new restaurant that pays homage to one such food style.
Yipin Huaiyang intends to live up to its name with a first class tribute to the cuisine that originates from regions along the Yangtze River such as Yangzhou, Zhenjiang and Huai'an, all in Jiangsu province and a famously beautiful area of China.
The newly opened restaurant introduces healthy and nutritious dishes that also reflect the beauty of the land with tempting flavors and winning presentations.
Eating out has become as much a trend as whimsical fashion styles: Consumers love new fads, but they often return to the true and tested and the nostalgic. Nowhere is this better manifested than in Beijing, where the popularity of cuisine styles tended to yo-yo up and down the graph.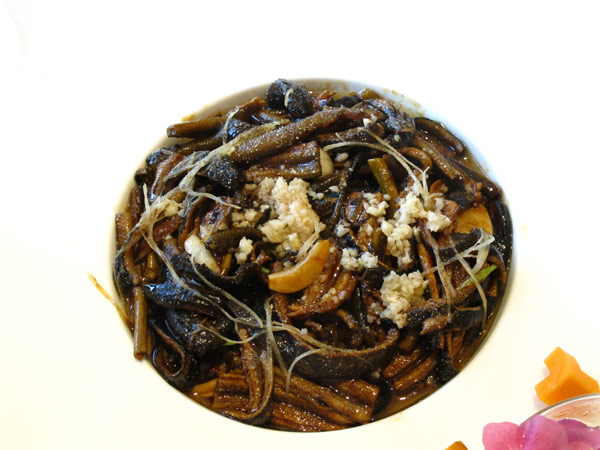 Braised eel is a typical dish of Huaiyang cuisine. Photos by Ye Jun / China Daily
Cantonese and Shandong cuisines were dominant in the restaurant scene for many years, before spicy Sichuan became the top favorite.
But many Beijing gourmets all agree that the light, refreshing style of Huaiyang cuisine is on the rise.
Its major ingredients are pork, fresh water fish and a lot of other seafood and it is characterized by elaborate preparations and an emphasis on the true tastes of ingredients.
Very few dishes are spicy.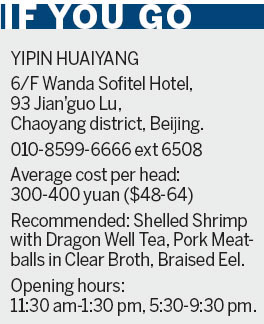 The capital has a few Huaiyang-style restaurants, but there are very few located in five-star hotels. With Yipin Huaiyang opening at the Wanda Sofitel Hotel, that changes.
The hotel is said to have spent a handsome sum of money adapting its original sixth-floor bar into the high-end Huaiyang restaurant.
It is not big, with just four private rooms and a small public area, but the decor is elegant, and certainly true to the styles of Huai'an and Yangzhou.
Executive chef Jiang Yingrong is a first class Chinese cuisine master at the national level, and he has plenty of experience preparing banquets for Chinese leaders and visiting foreign State guests.
Among his many signature dishes are the stewed codfish and the clear-glazed pork meatball. Presentation is delicate, often accomplished with beautiful flowers and fresh leaves, and the best-looking dish of the day was the shelled shrimp with Dragon Well green tea served on a celadon plate placed on a bamboo tray.
Most of Huaiyang cuisine is light, and does not burden the palate too much, and restaurant says it does not use monosodium glutamate.
Some Beijingers used to heavier flavors may find some dishes bland, such as the bean curd slices in broth, and pork meatballs in clear broth.
Typical appetizers are marinated sour and sweet radish, and brined duck. Tasty options that are typically Huaiyang include braised eel, and dim sum such as crab roe buns and sauteed pork buns.
A lot of eating is in the ambience, and there are exceptional moments here such as when the pretty waitress pours hot water to start the dry ice smoking for the Dragon Well shrimps. Just then, one can almost feel transported to beautiful Jiangnan. And that alone, is worth the money.
Contact the writer at yejun@chinadaily.com.cn.