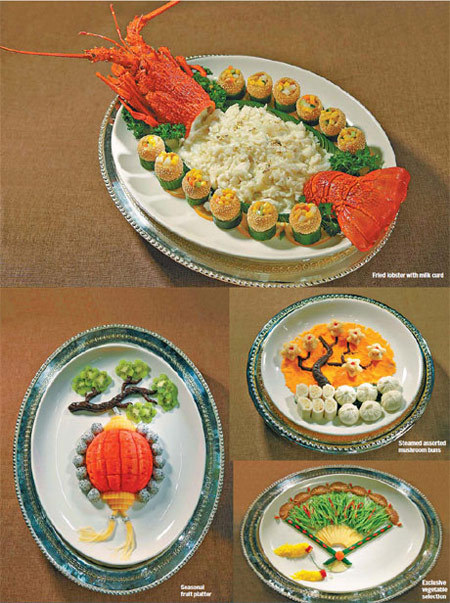 Aubergines marinated in the stock of 10 chickens. Jujubes and yams pureed, sieved and baked into a tiny cake. These culinary scenes from the literary classic A Dream of Red Mansions are about to come to life. Pauline D. Loh and Fan Zhen revisit the pages.
Where else in the world can you find chefs as immersed in literature as in China? It is also probably the only country in the world where the naming of each dish demands knowledge of rhythm and rhyme, and where the kitchen gods constantly draw inspiration from the scholar's shelves.
Similarly, where else would you find both poetry and prose peppered with references to seasonal ingredients or a well-made dish?
References to food are also a sign of the times.
In many past periods of China's glory days, the preparation of food - especially for the aristocracy and royalty - became more an art than a craft.
And in this aspect, scholars all agree that A Dream of Red Mansions, written by Cao Xueqin (1715-63) in the latter half of the 18th century, encapsulated some of the best descriptions of the processes.
The novel mirrors the complications and conflicts of a feudal family, the hype and hypocrisy that veiled the rot of corruption. But it is a story well told, of teenage romances in a household full of women all revolving around one pampered youth.
The book also provided detailed descriptions of the lifestyle of that time: the poetry, drama, art, architecture, gardens and food.
More than 40 dishes are intricately described and it is thanks to these passages that modern chefs find inspiration to recreate the culinary perfection in Red Mansion banquets, which has gradually become a cuisine style of its own.
The first restaurants in China to offer the Red Mansion banquets were often venerable institutions mired in the traditions of state banquets.
One of them was Laijin Yuxuan located at Beijing's Zhongshan Park. On the strength of its opulent Red Mansion banquets, it won several national culinary awards in the early and mid-1980s.
But as China went through the roller coaster of changes post-80s, gourmet diners simply got distracted by the plethora of dining options flooding in through the open doors.
Now that the dust has somewhat settled, younger, bolder chefs are looking back at history for inspired themes to tag on to their personal styles. Among them is the Shangri-La group's bright young star in the kitchen, Anthony Dong.
A specialist in Huaiyang cuisine, Dong has had more than 20 years' experience experimenting and fine-tuning his take on this classic cuisine, upon which much of the food described in the A Dream of Red Mansions is based.
And on Oct 20, the Shangri-La Beijing will offer this exclusive banquet from Chef Dong. There is only one catch. No, two.
First, you can only book on that day, one day only. Then, you have to book a table for 10, at roughly 1,500 yuan ($240) a head with some change.
But the food you can expect is spectacular.
There is a little goldfish swimming around a bowl on a beautifully decorated table, and a group of waitresses dressed in princess robes. It's like walking into a time warp. As soon as the delicacies are served, every story in the familiar chapters suddenly comes to life again.
For example, there was a little dish that did not look too attractive on the table until somebody said "Wow, this is really great!" and everybody started to have their own Granny Liu moment.
This was the aubergine dish that is arguably the most referenced, if not most famous, of the Red Mansion dishes.
Sweet and savory, meaty but redolent of sea and forest, the little brown cubes played tricks on our taste buds. One mouthful tasted soft as a sponge that had absorbed all the best flavors, while another crackled and popped, with the fragrance of nuts.
"This is the famous qie xiang, braised eggplants," Chef Dong says. "The diced eggplants have to be fried first and dried for a whole night before being braised with chicken, shrimps, black mushrooms, winter bamboo shoots, pine nuts and walnuts."
Throughout dinner, Dong cheerfully shared his thoughts and techniques in reproducing these classics, even though he had spent the last 12 hours in the kitchen preparing this banquet.
"The 1,200 pages of A Dream of Red Mansions, I read them all. Only when you understand the story, will you get the essence of each dish," he says.
And he did.
The stewed pigeon eggs immersed in chicken broth and dotted with black and white fungus was a knockout. The eggs are boiled at 90 C for 40 minutes so they turn translucent, as delicately beautiful as white nephrite jade. You need a spoon to scoop the slippery egg into your mouth.
"You have to thicken the soup with cornstarch right at the end, to get the slippery effect in the book that made Granny Liu fail to catch the eggs with chopsticks."
As the chef added the background stories, we happily demolished our portions. The evening passed as in a dream, as we realized all our fantasies of sharing food with the characters of China's most famous love story.
From the marinated duck's tongue with grain stillage to braised goose with soy sauce to deep-fried red date paste puff pastry, all were milestones on our journey of rediscovery of A Dream of Red Mansions.
Contact the writers at fanzhen@chinadaily.com.cn and paulined@chinadaily.com.cn.