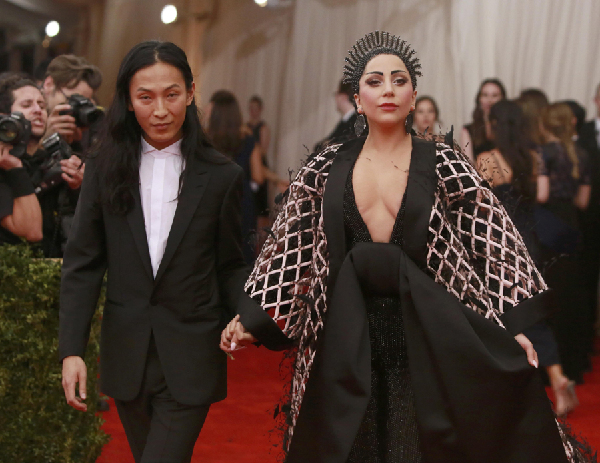 US singer Lady Gaga (right) is seen with American fashion designer Alexander Wang after arriving for the Metropolitan Museum of Art Costume Institute Gala 2015 celebrating the opening of "China: Through the Looking Glass," in Manhattan, New York May 4, 2015. [Photo/Agencies]
Shi Liupo mocked singer and actress Selena Gomez, saying she looked liked a child bride from Vietnam. And she also wrote that the super short custom Louis Vuitton gown worn by model Miranda Kerr and the checkerboard Chanel minidress by actress Dakota Johnson were too "saucy and seductive" and totally missed the gala's theme, while the Balenciaga outfit by designer Alexander Wang that Lady Gaga wore resembled something a witch would favor.
Some celebrities managed escape the bloggers'wrath for accurately interpreting Chinese culture, including Bee Shaffer, daughter of Vogue Editor-in-Chief Anna Wintour who served as the host for the gala, wearing Alexander McQueen and actress Emily Blunt in a regal and classic Oriental-style Prada gown.