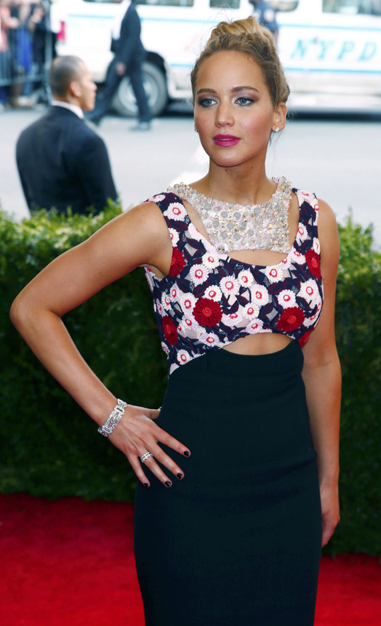 Actress Jennifer Lawrence arrives at the Metropolitan Museum of Art Costume Institute Gala 2015 celebrating the opening of "China: Through the Looking Glass," in Manhattan, New York May 4, 2015. [Photo/Agencies]
Sarah Jessica Parker's massive flame-flanked headdress with red tassels was reminiscent of the crown on Fuwa, the mascot for the 2008 Beijing Olympic Games, and the dress that Jennifer Lawrence wore was like a bellyband torn apart, wrote Ye, one of the most influential fashion bloggers in China.
To manage a red carpet appearance requires more than a beautiful face, stunning shape and refined taste, knowledge and education are just as important, wrote Ye.