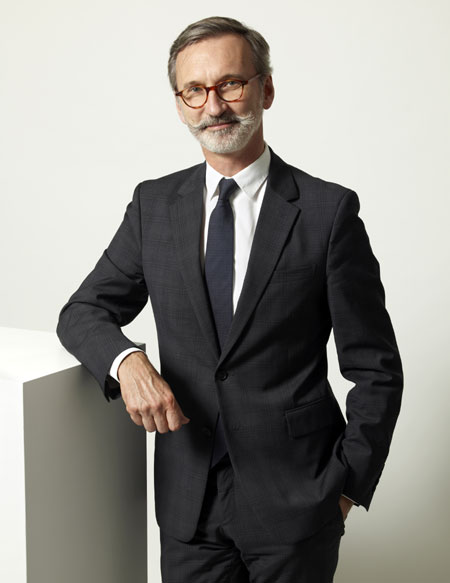 Jean Cassegrain, CEO and grandson of Longchamp's founder, says China has become the home of the second biggest consumer group for the brand. [Photo/China Daily]
The brand saw a 25 percent increase in sales in China last year. In comparison, the overall Chinese luxury market declined 1 percent in 2014 due to economic slowdown and the government's crackdown on corruption, according to Bain's China Luxury Market Study.
The continuing government crackdown on gifting could actually create an opportunity for accessible luxury brands such as Longchamp, says James Roy, associate principal of China Market Research Group in Shanghai.
"There is a climate that people are not opting for expensive brands that stand out. Brands like Gucci and Louis Vuitton have become too widespread for them. Rather, they are looking for low key and more affordable brands. And they are buying for their own use," he says.
Longchamp recently opened stores in Shenyang of Liaoning province and Qingdao of Shandong province. The brand now has 20 stores in China, a modest number compared to other brands. The plan for new stores in China this year is not set yet as the brand cautiously looks for the best locations.
"We need to expand to get more visibility but we want to do so very cautiously. If you set your goal at five or 10 stores, you end up opening in any location just to meet the objective. The objective is to improve under the existing locations and open selective new locations if we can," Cassegrain says.
The brand offered a limited-edition design for Chinese New Year, combining Chinese red with suede, Chinese customers' favorite material. It is also introducing the ready-to-wear line in the larger stores.
"A lot of Chinese know about Longchamp. We want them to know us not just because of nylon folding bags, but also leather and ready-to-wear and shoes. There is still a lot of work to make more Chinese customers truly understand Longchamp," says Josephine Liang, the brand's China general manager.
For 2015, Cassegrain says he expects the global growth to be in the high single digits.
"We are supporting it with a lot of new activities, products and stores. It's not just waiting for growth. We have to push for it."