Built to last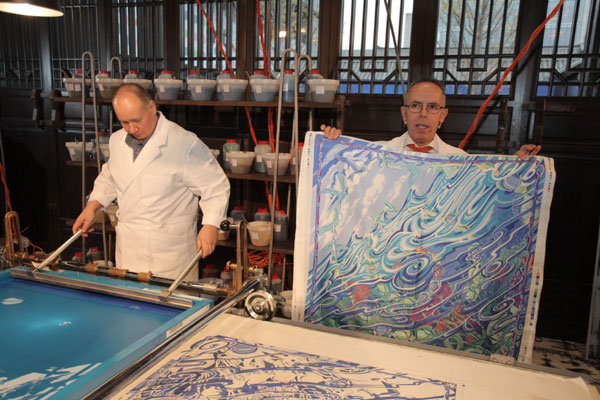 Kamel Hamadou (right) demonstrates the making of Hermes scarves. [Photo/China Daily]
The level of precision, timing and care required to make a single scarf is staggering, with up to 46 individual screens being applied separately, each with a different color, until a final image is created.
In a time when products are increasingly mass produced, and many family-owned luxury houses have moved toward outsourcing manufacturing to countries with cheap labor or replacing humans with machines, Festival de Metiers shows Hermes' determination to remain in-house and handmade.
"Festival des Metiers is Hermes' unique way of giving people an insight into its craftsmanship, value and heritage. It shows our commitment to craftsmanship," says Florian Craen, Hermes vice-president (sales and distribution).
People enjoy the exhibition because they like seeing how Hermes' products are made, he adds.
"Hermes is both respectful of the tradition and passionate for the future. The behind-the-scenes presentation on the one hand demonstrates our craftsmanship legacy, and on the other it shows our energy to keep innovating," says Cao Weiming, president of Hermes Greater China.