Built to last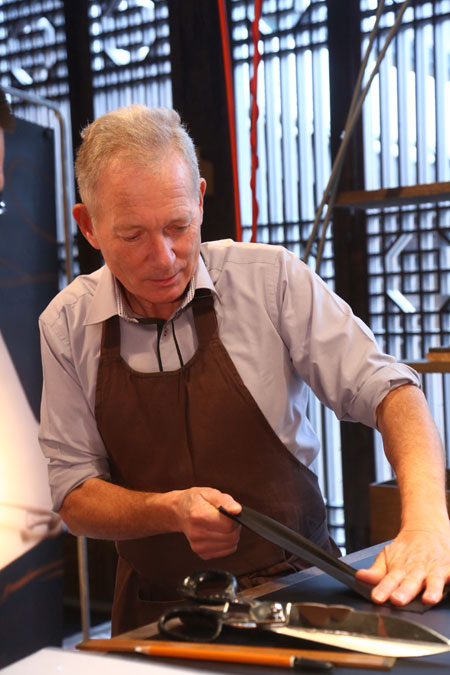 Jean-Pierre Paillot demonstrates how to treat a piece of suede. [Photo/China Daily]
He then sketched the outline of a glove on the leather with a white pen. The sketch was so light that only Paillot could see it. "My job is just part of the whole process of making a pair of gloves. It takes half an hour to treat a piece of suede and make it ready for making gloves," he says.
After the treatment, he writes the number 18 in a corner of the piece. Every craftsman at Hermes has a number, and the company regularly checks the products to control the quality.
He then licks one finger and uses his own saliva to touch the leather as a mark. "The real luxury product is actually very natural and very down to earth," he says, laughing.
In another room, Kamel Hamadou, head of Hermes Silk Printing, was demonstrating the making of Hermes scarves.
Every year, Hermes presents 20 different designs of scarves, 10 for spring/summer and 10 for autumn/winter. Many of designs are from freelancers. Hamadou says Hermes has selected designs from hundreds of freelancers worldwide, including a painting by a 14-year-old boy from Africa.
He says usually it takes two years to make a silk scarf, half a year for design, half a year for the sketch and engraving, and one more year to produce the final stitch. Each scarf requires 450,000 meters of silk thread and has an average of 25 colors. The colorists work with some 75,000 hues to make the final product.