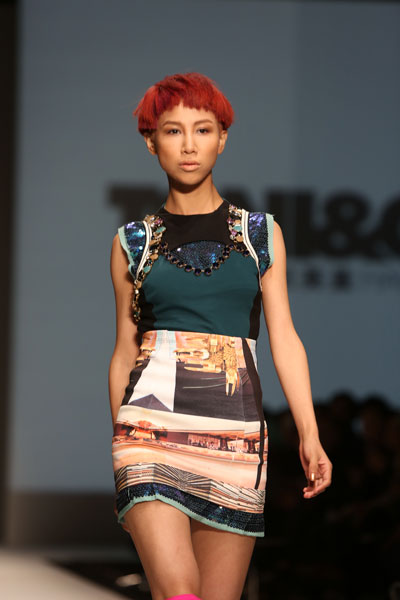 A model shows a hairstyle. Photo provided to China Daily
"Punk is now a fashion trend. But it originated in the poor neighborhoods in London where teenagers couldn't afford a good haircut. So they mixed water and sugar and made their hair stand up."
But Chinese perceptions are changing, Chan says.
"People are learning about fashion history and international trends quickly from the media and the Internet."
Yet misconceptions persist, he says.
"Some Japanese and Korean styles are very popular among the young. But the problem is that they thin their hair too much with shavers, causing damage to the hair. Whatever damages your hair - don't do it."
Chan's mission in China extends beyond hairdressing to expanding Toni&Guy's presence.
The company plans to open five new stores in the country annually from next year. It will examine second- and third-tier cities.
"We can make more money in these cities, as the rent is much cheaper," Chan says.
In Beijing's hip Sanlitun area, for example, it costs 25 million yuan a year to rent a 500-square-meter salon.
"In Beijing and Shanghai, we build our image," Chan says. "It is in the smaller cities where we make our money."
Contact the writer at wangchao@chinadaily.com.cn