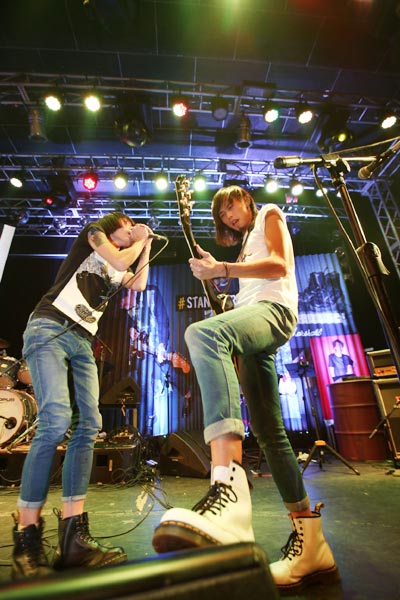 Members of the Hong Kong-based indie rock band Chochukmo wear Dr. Martens during a performance. Photo provided to China Daily
The label launched global music event #STANDFORSOMETHING last year, inviting local bands to take part in the concert to celebrate the old rock and roll spirit. The SFS music event has toured China and is going to the United States, Paris, Hamburg, Copenhagen, Stockholm and Amsterdam.
The SFS event in China involved six bands, including Rebuilding the Rights of Statues, My Skin Against Your Skin from Taipei, Poshangchun, SUBS and Chochukmo.
An Zhuoya, the lead singer of My Skin Against Your Skin, remembers wearing Dr. Martens boots for her first performance at school.
"Those shoes were like a symbol of status for the students," she recalls.
Mike Orange, the guitarist of Chochukmo, says wearing Dr. Martens gives him a sense of "onstage security".
"It's about diversity and telling the consumers that we are all about championing people who actually have confidence in themselves and have something to say about themselves. Teenagers in China love music. It gives the consumers a chance to get close to their music heroes," Jobson adds.