Fairy-tale beginnings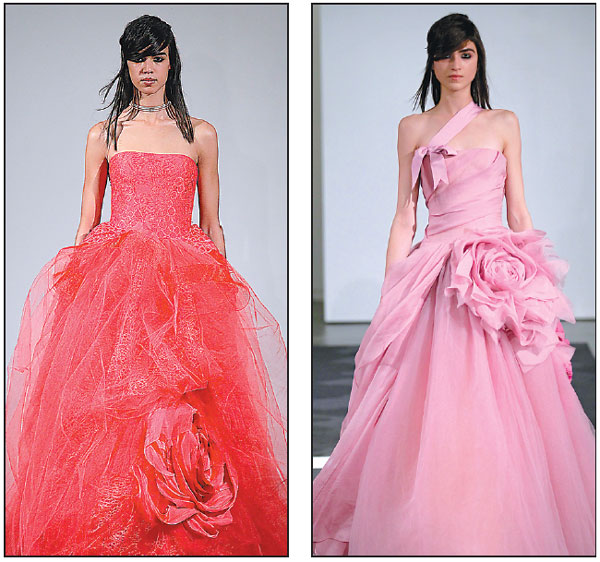 Vera Wang fall 2014 collection gowns are decorated with giant flowers made of the same material as the dress.
As all of the gowns at Central Weddings are made to order and require four to six months including shipping, Chow suggests that brides start shopping early.
"Nine months is a comfortable window," she says. "It allows enough time to find the right dress and for final fittings, which typically require two or three. We sometimes see brides with less time. For an additional charge, we can rush orders, though the selection is quite limited. And, for brides in an emergency, they can buy off the rack here in our shop if the dress fits or requires a minimal amount of alterations."
Chow does not recommend having the entire bridal party along on a shopping spree. "The bride will become confused by too many excited comments. And what may suit one girl may not necessarily be right dress for the bride herself. Many tend to come on their own, or they may bring their mother, sister or maid of honor for second opinions. It can be overwhelming to pick something out of a sea of white dresses on your own."
Central Weddings will offer advice for a dress to suit the bride's body type, as well as the wedding's location and time of year.
Chow says that the most popular style for local brides is a strapless gown with a flattering sweetheart neckline. "Ninety percent of the gowns chosen are strapless. It shows off jewelry better and it's more suitable for our subtropical climate."
Even brides who have winter wedding dates tend to go for strapless; they may choose a matching bolero or lace jacket for a different look in the evening. "It is more for aesthetics than for warmth," notes Chow. "For example, some brides prefer to look more demure in church, and then remove the wrap for photos. If it is really cold, the bride will add a mink stole."