Fairy-tale beginnings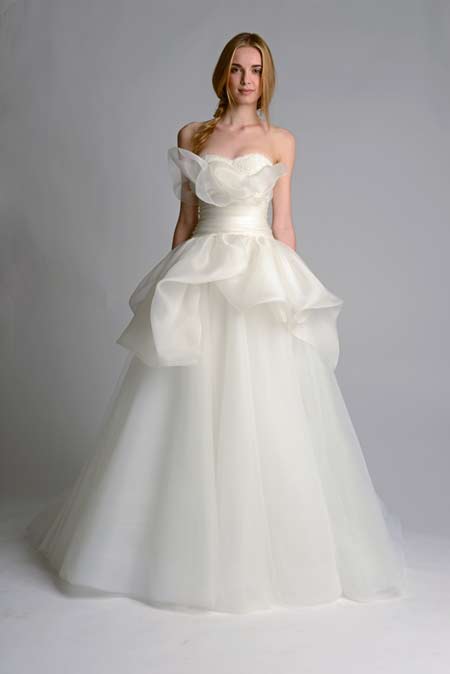 Marchesa Fall 2014 collection
Most brides will choose a train, though the length should depend on the dress. Slimmer, more body-hugging gowns look more elegant with a short train, while more voluminous gowns can pair with a chapel length train between two to three meters. Some gowns come with a detachable train that can be removed after the church ceremony to allow less restricted movement.
"You don't want people stepping on the dress accidentally with a train that's too long," cautions Chow.
In space-challenged Hong Kong, tripping over the bride is a real concern.
Chow advises that choosing a veil really depends on how the bride wishes to style her hair. "We see mainly two lengths: Short is to the finger tips, while long will drag behind with the train. The front veil, known as a blusher, is often a hair accessory and not worn much anymore. Some brides will go for a birdcage-like ornament on a headband that is a contemporary version of the veil."
Gloves in Asia are often considered too formal for weddings. As for shoes, Chow recommends three-inch heels with closed toes, as only the front of the shoe will show. "But if the wedding is on a beach or a grass lawn, heels are just not practical." Jewels should be kept simple; many brides opt for a matching set of pearl necklace and earrings.
As Central Wedding's gowns range from HK$30,000 up to HK$100,000 ($3,870-$12,900) or more, Chow advises brides to take their time. "It's an expensive purchase. Make sure that it's the right decision for you."