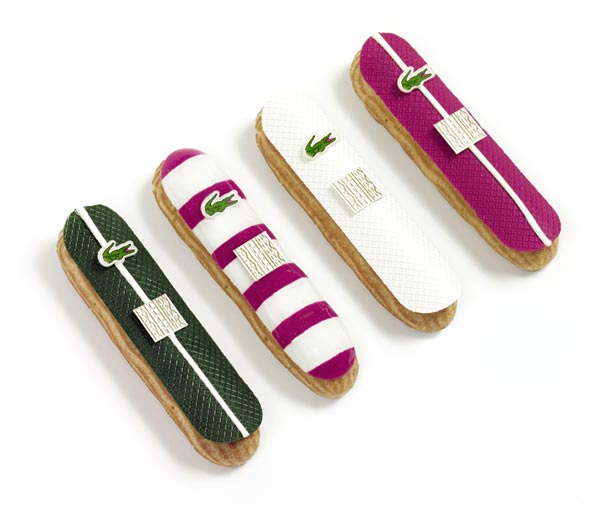 A series of four eclairs by Fauchon for Lacoste. Photo provided to China Daily
Berta de Pablos-Barbier, senior executive vice-president of branding and communications at Lacoste, says the brand choose to mark its 80th birthday by celebrating its past.
"The reason we are collaborating with Maisons Francaises (French houses) is because they are all like Lacoste, representing French craftsmanship in different categories, " she says.
De Pablos-Barbier says the labels have to share the same values as Lacoste, which is all about French elegance and style.
"It's not only about being elegant and stylish in the way you dress, but also in behavior. It is also about the joy of life, the positive outlook into the world, and being authentic and genuine. These are not just things we have invented. They are categorized by Rene Lacoste," she says.
De Pablos-Barbier says these "gifts" from other French labels are not available in any boutique stores. Any consumer who is interested should refer to Lacoste, and the company will send a request to the label who created the product.
Related:
Luxury giants tap into mainland market
They don't make things like they used to
John Galliano makes fashion return in British Vogue