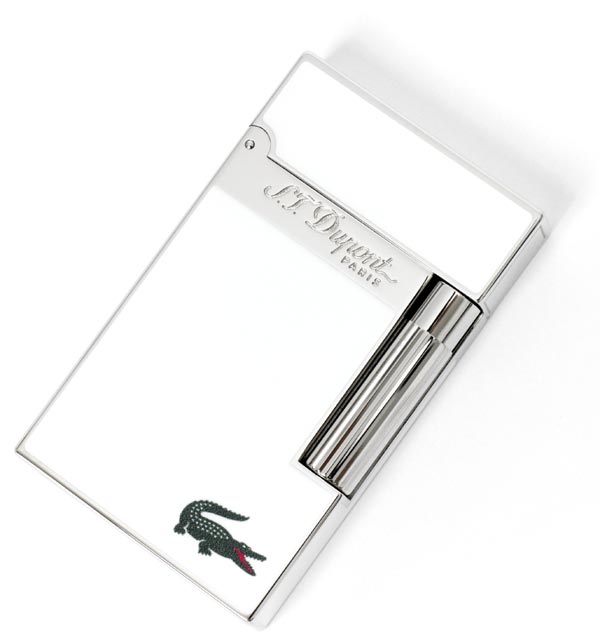 A lighter with Lacoste's logo by S.T. Dupont. Photo provided to China Daily
Hermes has created a crocodile tennis bag to honor Lacoste. Fauchon, a French label known for its creative pastries, has created a series of eclairs for Lacoste. They are green, magenta and white, representing the brand's logo. The ingredients are actually creamy green tea, almond, vanilla, lemon and strawberries.
All the gifts are closely connected with the label Lacoste. Hermes' gift, a crocodile tennis bag, actually has a story related to tennis champion Rene Lacoste. In the 1920s, the sports star made a bet with his team captain, saying he would win a match he was about to play. He won, and his reward was a crocodile-skin suitcase.
Philippe Lacoste, grandson of the label's founder Rene Lacoste, attended the event. He says the gifts from French brands represent the typical Gallic lifestyle.
"They are more 'lifestyle brands' to represent the French way of life. For example, I remember clearly when I was very young, my grandmother would wear a brooch made by Boucheron," he says.
"My grandfather frequently traveled to the US to play tennis. During that time, he went there by boat, and it usually took five days. He packed his luggage in a special trunk made by Goyard. It can hold some goods specially for five-day use."
The Goyard he is referring to is a French luxury trunk maker. The label has created an exclusive travel bag, mixing its own and Lacoste's logo: the crocodile and a stylized chevron-patterned monogram.
Related:
Luxury giants tap into mainland market
They don't make things like they used to