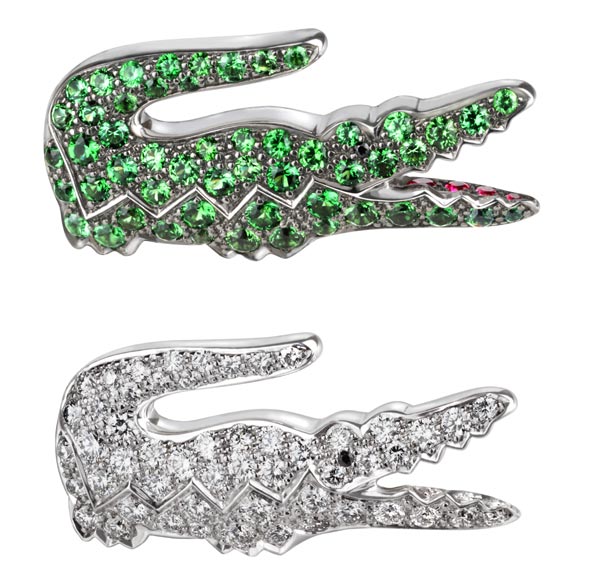 Two exclusive brooches of the crocodile made by Boucheron for Lacoste's birthday celebration. Photo provided to China Daily
The iconic label is turning 80, and marking the milestone with a celebration of Gallic glamour with a little help from friends. Gan Tian reports.
French label Lacoste's boutique on New York's Fifth Avenue has had a new window design since September. Each window has an independent image, representing a different decade's fashion and style.
In the window representing the 1940s, two mannequins wear all-white golf dresses. In the 1950s window, blue-striped blouses and red skirts are presented. In the 1980s window the style becomes colorful with loose pants and chic accessories.
The eight windows reflect the label's 80 years in business.
A month after the nostalgic window design was launched, Lacoste hosted an exclusive birthday party in Beijing, with more than 600 guests from the fashion industry attending the celebration at the Yan Club Arts Center. Along with champagne, music, DJ and party animals, the biggest feature of the celebration was the fabulous savoir-faire gifts from other French labels, including jeweler Boucheron, leather house Hermes, and cuisine master Fauchon.
Boucheron has made a gift with Lacoste's crocodile logo. The jeweler, famous for its animal-inspired creations, presented two exclusive brooches of the crocodile. Aglow with diamonds and emeralds, the crocodile joins Boucheron's famous menagerie.
Related:
Luxury giants tap into mainland market
They don't make things like they used to