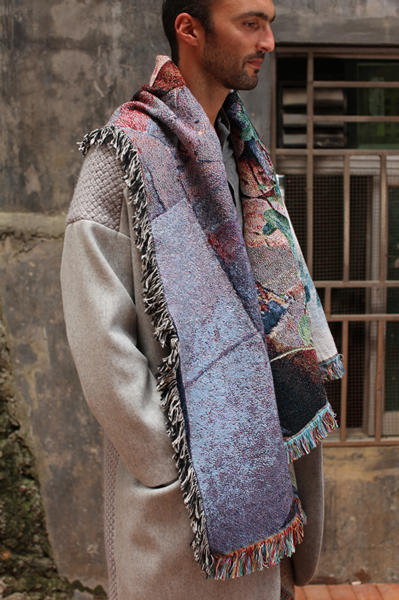 An overcoat and shawl from the ffiXXed Autumn/Winter 2013 menswear. Photo provided to China Daily
What they're doing isn't traditional, says Picken. "We're in a different category: We're more about how fashion merges with art and architecture," he says. "We're cross disciplinary and for that we don't have to be technically proficient.
Lau adds: "Plus, in Shenzhen, we can always find help to resolve technical issues."
After relocating to Hong Kong to take advantage of her family's garment connections, Lau found things were more efficient in Asia. Picken, who originally thought that they would only be in the city for two months, was also amazed at its quickness.
"The speed here is incredible," he says. "Everything is so accessible. Australia and Berlin are not that much different. The change was more dramatic coming to China - and very stimulating."
After a friend let them use a Shenzhen holiday home near a reservoir, the two moved ffiXXed's studio to China while maintaining an office in Fotan to handle the business side.
"One side of our studio is a national park and mountains are on the other," says Picken. "You get there by traveling through a series of villages. There are no high-rises. Our studio gives us space to think about things. We live and work there."
Lau says: "We spend about half our time in Hong Kong, to source materials from places like Sham Shui Po or for sampling. We like discovering luxurious textures, like Japanese wool or silk and cotton from China."