Designer rebel with applause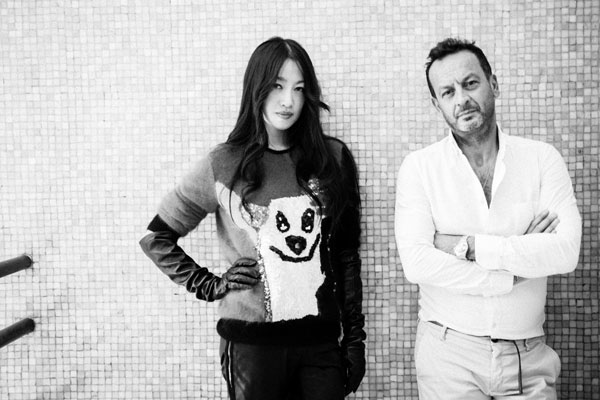 Zhou Yi with Paolo Gerani in Milan. Photos provided to China Daily
Chinese artist Zhou Yi breaks free of the "Chinese element" in her designs for an Italian luxury fashion brand, Xu Junqian discovers in Shanghai.
As a Chinese artist appointed the creative director for a complete capsule collection of a foreign luxury brand, Zhou Yi says the last thing she wants in her works is the "Chinese element", stereotyped by many foreigners and Chinese alike, when it comes to fashion designs.
"They are so cliche and surreal," the Shanghai artist says, casually lying in a swivel chair at her studio in a beautiful English Renaissance-style two-floor building, the residence of a Hong Kong real estate tycoon in the 1920's.
In April, the artist's studio announced jointly with Italian luxury brand Iceberg that a miniline of the brand - Breaking the Ice, Iceberg by Zhou Yi - will be launched in global stores of the brand at the end of this year.
The collection will feature menswear, womenswear and accessories "made perfect for a roadtrip". And, of course, knitwears, in which the brand specializes and started from in 1974, are included.
While some deemed it as a selling point catering to the world's largest luxury market, expectations to see something labeled with "made-in-Italy" but designed by Chinese are high.
But before the collection gets unveiled, Zhou, in an exclusive interview with China Daily, thumbs her nose at the possible "Chinese element" like "China red", "big knots" and "qipao styles", which people take for granted about Chinese designs.
"Few people are seen wearing this stuff on the street. It's OK to put them on souvenirs or T-shirts but not on priced fashion pieces," Zhou says.