Unique porcelain exhibition shows creativity in the 17th century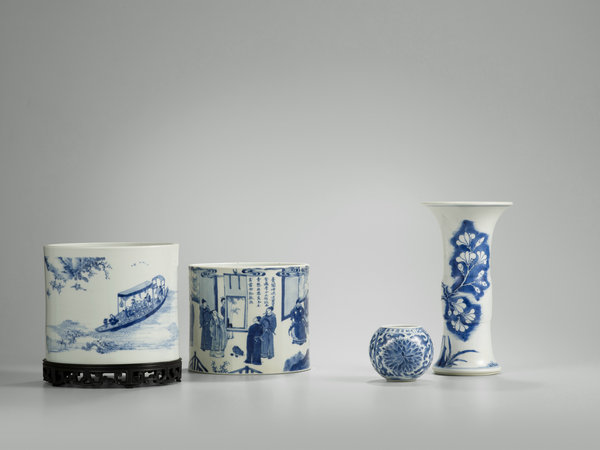 The blue and white porcelain pieces are among the exhibits at the ongoing show. [Photo provided to China Daily]
An ongoing porcelain exhibition featuring more than 100 vases, plates, brush pots and cups showcases different aspects of society in 17th century China.
The exhibition, Commissioned Landscapes: Blue and White Porcelains of the 17th Century, is the first of its kind to focus on porcelain produced by folk kilns during a period when royal kilns had stopped production.
The porcelains on display at the Guardian Art Center in Beijing were from Classy Society, a group of collectors concentrating on porcelain from the Ming (1368-1644) and Qing (1644-1911) dynasties. The group consists of more than 250 collectors, antique dealers, scholars and connoisseurs.
"The value of porcelain produced by folk kilns lies in their creativity and imagination. Many show the owners' personalities," says Leung Hiu Sun, curator of the show.
Unlike ceramics made for royal families that had restrictions on the patterns and pictures painted on them, the subjects and pictures on folk kiln-produced porcelain are diverse. Folk tales, legends and stories from novels and operas are all featured on the vases, plates and cups.