Urban HK inspires ongoing art show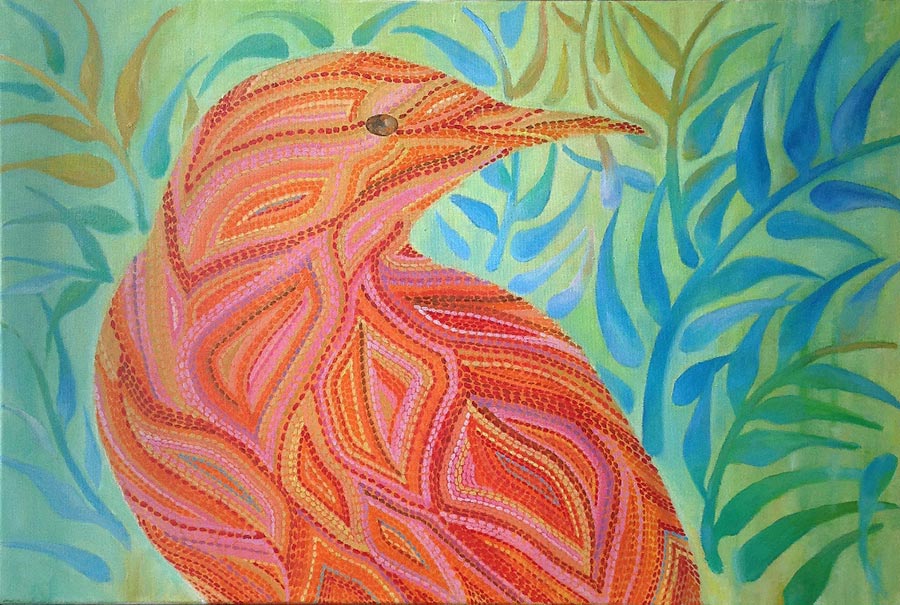 Orange Bird by Law Siu Chong [Photo provided to China Daily]
The city landscape of Hong Kong continues to inspire local artists to reflect on people's way of living and thinking. Joanne Wu and Law Siu-chong, both based in Hong Kong, approach urbanization in their vivid paintings.
Their eye-catching works are on show at the East Hotel Hong Kong through April 20, lighting up its lobby, first-floor restaurant and top-floor bar.
In Wu's five paintings, she is inspired by fairy tales to create a beautiful fantasy world, a critique of humans for polluting nature. A graduate of the Hong Kong Art School of Design, she is now a full-time painter and freelance stylist.
Law paints birds, trees and birds' nests to compare urban residents, high rises and rooms of a building. Her works explore the complex relationship between people and the city and buildings we are living in: They depend on these glamorous buildings to live elegantly while they are also bound by these intensive architectures.
The display of works is a cooperation between the hotel and tgt Gallery, organized to raise people's appreciation of local artists.