Migrant workers' Spring Festival gala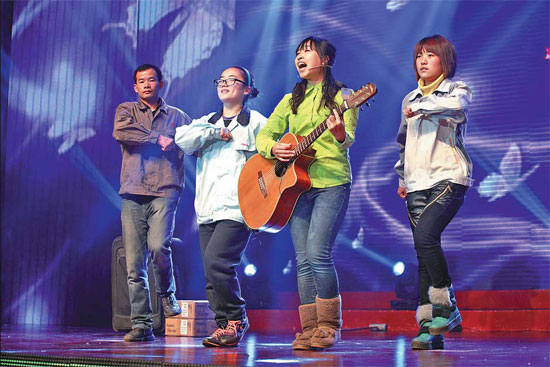 Duan Yu (second from right) from Suzhou Migrant Workers' Home sings at the rehearsal for the second migrant workers' Spring Festival gala. Photos provided to China Daily
Migrant workers bring a little song, a little dance and a lot of passion to their Spring Festival gala, which has blossomed this year after a makeshift start, Han Bingbin reports.
The second migrant workers' Spring Festival gala will be broadcast nationwide via two satellite channels on the Lunar New Year's Eve. Taped in an auditorium in downtown Beijing on Jan 26, the show has soared far beyond the imagination of its initiator, Sun Heng. Sun still remembers vividly how the first event took place in total shabbiness.
In early 2012, to mark the 10th anniversary of their young migrant worker art troupe, Sun and his colleagues put together what he calls a "self-entertaining" gala show inside a crude shack in Picun, a migrant neighborhood on the far outskirts of Beijing.
The troupe, organized by Sun and a few chums who failed to fulfill their star dreams in Beijing, came together that night plainly dressed and filled the cold air with both laughter and tears - singing and acting out their frustrating realities. The sounds were occasionally drowned out by passing planes whistling by overhead.
One surprise was that China Central Television's star host Cui Yongyuan, who has won acclaim for his support of migrant workers, voluntarily hosted the show. That helped the video to become an online hit, with more than 50,000 viewers and a lot of discussion in just three days.
That was just the beginning. The troupe also sought donations to raise more than 100,000 yuan ($16,043), which has enabled them to bring migrant-worker performers from as far as Guangdong province to be a part of the show this year. Cui again hosted the show, joined by a few celebrity singers who rose to stardom from impoverished or migrant roots.
Better acoustics and fancier stage designs this time around should guarantee more publicity and impact. While reportedly insisting that they will avoid any commercial involvement, the organizers expect the now-annual show to become a cultural brand, giving voice to and helping improve the livelihood of migrant workers, whose images are sometimes played down or misrepresented.
After a performance tour to migrant communities around the country, Sun says, he has felt the workers' strong desire to express themselves.
Unlike their fathers' generation, which eyed making money as the only goal of life, Sun says these younger migrants are eager for education, interpersonal communication and, most noticeably, cultural life. In manufacturing centers like Shenzhen and Suzhou, Sun says, there are many interconnected show groups where young migrant workers play hip-pop, write songs and even shoot documentaries with the help of the Internet.
With simple forms, their art has sometimes outshined commercial products thanks to its vivid realism.