Crime thriller 'Manhunt' brings three firsts for Fukuyama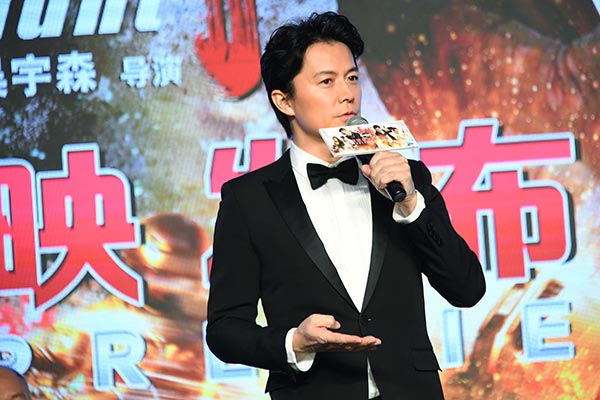 Manhunt marks Japanese star Masaharu Fukuyama's first lead-starring a Chinese movie. [Photo provided to China Daily]
Japanese star Masaharu Fukuyama once enthralled Chinese fans with his renditions of songs in Tokyo Love Story, the most popular Japanese TV series airing on the Chinese mainland during the mid-1990s.
Recently, the singer-actor has once again become the talk of the big screen with his role in his first Chinese movie, Manhunt.
Directed by John Woo, one of the earliest Hong Kong directors to become established in Hollywood, the movie is a remake of the 1976 Japanese movie of the same title.
Based on the Japanese novel Kimi Yo Funnu No Kawa O Watare (You Must Cross the River of Wrath) by Juko Nishimura, Woo's new version centers around a framed Chinese lawyer who has tries to clear his name over a crime he hasn't committed.
Chinese actor Zhang Hanyu plays the lawyer, and Fukuyama stars as a Japanese police officer who takes the lawyer's word and teams up with him to unravel the truth behind the crime.
During his recent tour to promote the movie in Beijing, Fukuyama says the movie brought him three first-time experiences: He gained a license to pilot a motorboat; he spoke English lines for the first time; and he performed many of his own action-scene stunts.
Since Manhunt opened across China on Nov 24, the crime thriller has dominated the box office charts of domestic movies by raking in nearly 60 million yuan ($9.1 million).