Secrets of the Nobel Prize in Literature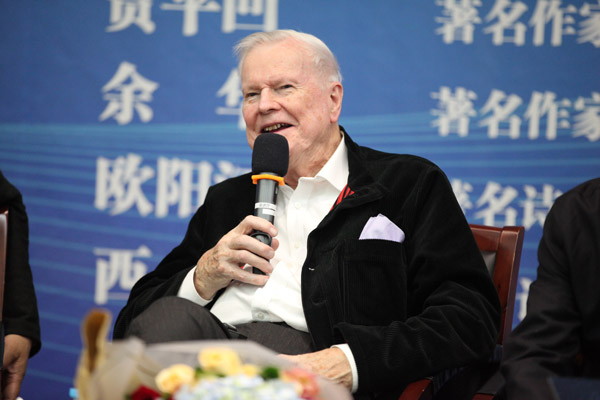 Kjell Espmark, former chairman of the Nobel Committee for Literature, speaks during a literature forum held at Beijing Normal University, Beijing, Nov 17, 2017. [Photo provided to Chinaculture.org]
"The list of laureates (for the Nobel Prize in Literature) should be a canon for the literature of the contemporary world," said Kjell Espmark, former chairman of the Nobel Committee for Literature and life member of the Swedish Academy.
Last week, Espmark made his ninth visit to China and shared his insights on this distinguished literary honor with an audience in Beijing.
How Nobel Prize laureates are chosen
Founded by Swedish philanthropist Alfred Nobel, the Nobel Prize in Literature is annually conferred to an author from any country who has created "in the field of literature the most outstanding work in an ideal direction".
Every year, the Swedish Academy, which awards the Nobel Prize in Literature, shortens the list of about 200 nomination proposals down to five candidates. Then after four months of reading and reviewing, the committee names the Nobel Prize recipient of the year.
According to Espmark, each new generation of the academy has its own interpretation of Nobel's will.
"Starting from 1978, the idea is that the prize should be given to a master who is unknown to the world in order to give the world a new writer they would otherwise not hear of, and give the writer the audience he or she deserved," he said. "In this way, the prize can better contribute to the canon of world literature."
As for the language barrier between the Nobel Committee members and the works with various cultural origins, Espmark introduced the Academy's solution.
"A work does not need to be translated into Swedish to come to question," he said. "We read many languages, including Italian, Spanish and Russian. Among 18 panel members, we have one of the world's leading Chinese experts, Goran Malmqvist."
If there are no translations provided in English, French, or German, the academy can order translations of their own, which include cultural and social references of the nominated book.
"We do as much as we can, to understand literature as it is understood where it was written," he said.