Fresh take on Dutch classic fairy tale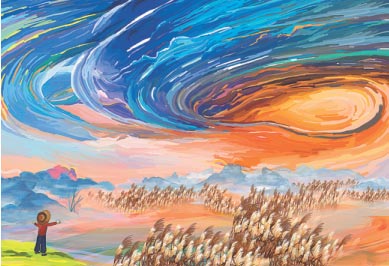 The new Chinese translation of Little Johannes was published recently, around 90 years after late Chinese writer Lu Xun's original was first published. [Photo provided to China Daily]
Described as the "poem without rhyme, a fairy tale for adults" by modern Chinese writer Lu Xun (1881-1936), a new Chinese translation of De Kleine Johannes (Little Johannes) was published in September, around 90 years after Lu Xun's original was first published.
Written by Frederik van Eeden, Little Johannes is a classic Dutch fairy tale from the 19th century. It's a fantastical adventure of the boy, Little Johannes, who lives with his father, his dog and a cat, and one night starts a journey to find the book that can "solve all the questions of mankind".
Little Johannes meets Windekind, Wistik, Pluizer and Doctor Cypher in his fantasy world, all symbols for the different stages of life while growing up.
He faces the harsh realities of the world and the emptiness of hopes for a better afterlife, but in the end chooses to embrace the bittersweet reality of life.
The story is a reflection of Eeden's own experience of youth, where he was urged to leave behind his childhood fantasies and grow up and learn more about the world.
As one of the most popular writers in the Netherlands, Eeden was also a doctor and a psychoanalyst. Published in 1887, Little Johannes has proved popular ever since and has often been referred to as the 19th century's Le Petit Prince.
Published by Changjiang Literature and Art Publishing House, the new Chinese version of Little Johannes has been translated by Jing Wen, who admits to falling in love with the story from the first time she read it.
"It's a noble artistic work that combines beautiful poetic prose with profound philosophical thought," Jing says.
"Little Johannes' love goes beyond mankind, gods, gender, animals and plants. In the end, he is not a pure child any more. He turns out to be brave and responsible enough to face the difficulties of life."