Beijing's Palace Museum keeps up with times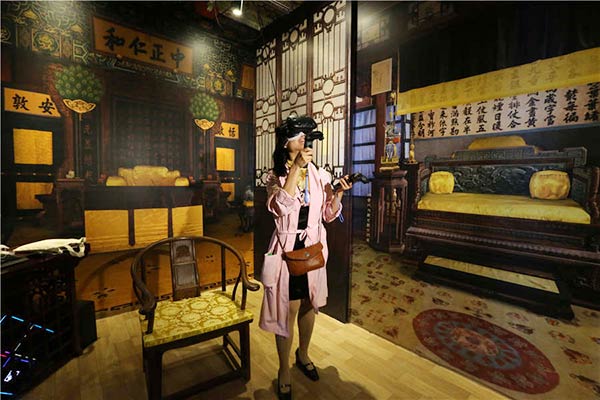 A visitor experiences VR technology during the exhibition, Discovering the Hall of Mental Cultivation: A Digital Experience, at the Palace Museum in Beijing, Oct 10, 2017. [Photo by Jiang Dong/Asianewsphoto]
The Palace Museum, also known as the Forbidden City, may be turning 92 years old this year since its founding, but its vision goes beyond its age.
Its recently-launched exhibition, entitled "Discovering the Hall of Mental Cultivation: A Digital Experience" in the palace's Yangxin Temple has gained traction and saw tickets fully booked in the past four days, according to the museum.
This marks another of the museum's latest steps in integrating traditional history and culture, along with technological innovation.
Its aim: To continue spreading the learnings of Chinese history, especially to the younger generation, the nation's successors.
At the Duanmen Digital Gallery, you are able to put on a Virtual Reality headset, and play make-believe in exploring the residence of the last eight emperors of the Qing Dynasty (1644-1911). All these – with just a click on the remote control.
"We have come to realize that people are welcoming in accepting to learn Chinese history and culture the digital way, especially the younger crowd," says Peng Yan, deputy team leader at the Department of IT, Imaging and Digital Media.
He adds: With the digital gallery being the "first" stop at the museum, it allows visitors to first have a brief understanding of the works of the museum, thereby making the visits to the subsequent sites easier.
Another key highlight at the museum this year is a landscape painting exhibition entitled "A Panorama of Rivers and Mountains".
This exhibition circles around the artwork of the 11.9 meter long Song Dynasty (960-1279) landscape painting by 18-year-old Wang Ximeng.
Just to show how rare it is, the painting has only been displayed three times in the past six decades.
It's among the 86 sets of cultural relics presented at the painting exhibition.
Organizers hope the exhibit will give visitors a better understanding of Chinese landscape painting, and the spirit of Chinese culture and art.
Xu Tong, curator of the museum's calligraphy gallery, says careful measures have been taken to protect these artworks, including controlling the lighting and temperature of the room.
The Palace Museum receives over 16 million visitors each year, a number which includes many tourists, even foreign students, who are presently studying in other cities in China.
This reporting tour was organized for the media, to learn more about what has been done in conserving Chinese historic and cultural heritage, ahead of the 19th CPC National Congress which begins in a few days.