Cultural festival to display cooperation
Later this month, performances, arts, music will highlight exchange of ideas
A cultural festival designed to enhance multilateral communication under the BRICS framework will get underway later this month.
The BRICS Cultural Festival runs from Sept 15 to 22 in the coastal city of Xiamen, Fujian province. More than 200 artists from Brazil, Russia, India, China and South Africa will participate, according to Xie Jinying, director of the Ministry of Culture's Bureau for External Cultural Relations.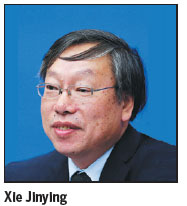 More than 30 activities, including performances, exhibitions and film screenings, will convene in the city, Xie said at a news conference on Sunday in Xiamen. All the events will be open to the public for free.
"All activities are co-presented by the five countries," he said. "The countries have abundant cultural resources and have common wishes to expand cultural influence with joint efforts."
The official launch ceremony for the cultural festival, plus a BRICS photography exhibition, will be held on Monday. It will be attended by the five state leaders who came to Xiamen for the BRICS Summit.
"People-to-people understanding and friendship is an indispensable cornerstone, whether to deepen cooperation within BRICS or to win a wider partnership," President Xi Jinping said in his keynote speech in Xiamen on Sunday.
"We should bring the significant role of cultural communication into full play and create more events like the film festival, cultural festival and sports meeting."
He said these activities, which are beneficial for people's livelihoods, will help to spread BRICS stories and inject stimulus to BRICS cooperation by converging exchanges and friendship among the five countries.
Top-tier artists are invited for the upcoming cultural festival. For example, a ballet gala will be held on Sept 15, according to Xu Gang, a choreographer from the National Ballet of China and director of the gala.
Troupes from each BRICS country will bring their most representative work. Xu said that his troupe will choose a scene from Red Detachment of Women, a classic Chinese ballet that premiered in 1964, and the Russian troupe will perform an excerpt from The Nutcracker.
Interactions among the five countries' performers also are designed to reflect their friendship. He said a Chinese ballerina will cooperate with a Brazilian dancer for an excerpt from Don Quixote.
"It's also a good chance to promote different countries' ballet culture for the public, which is even more important than performance," Xu said, explaining he will provide introductions and background information during intervals. The dancers are scheduled to visit schools in Xiamen for communication as well.
"Cultural communication among BRICS countries is not exclusive to big theaters," Xie said. "They should go deeper into communities and benefit more ordinary people, and improve mutual understanding of each other's traditions and values."
Cultural cooperation under the BRICS framework has already yielded some fruits. In June, the five countries' filmmakers released a coproduction - Where Has the Time Gone? - during the BRICS Film Festival in Chengdu, Sichuan province.
BRICS cultural ministers or chief administrators met in Tianjin in July, establishing alliances of museums, art galleries and children's theaters.
Under the agreement reached at the Tianjin conference, the cultural festival will rotate among the five countries to host of BRICS summits.
wangkaihao@chinadaily.com.cn
(China Daily 09/04/2017 page2)