Grammy treat ahead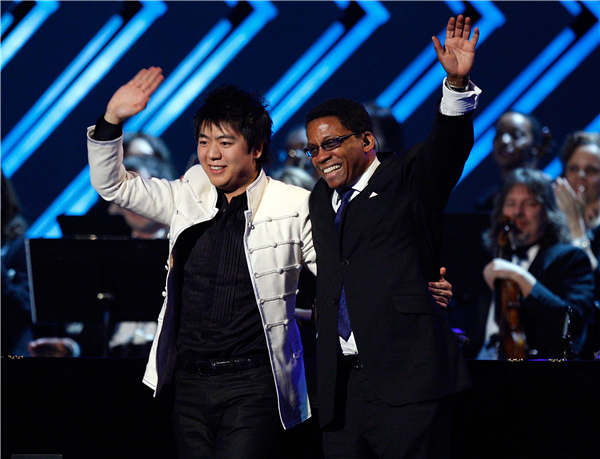 Musicians Lang Lang (left) and Herbie Hancock perform onstage during the 50th annual Grammy awards at the Staples Center in Los Angeles on Feb 10, 2008. [Photo provided to China Daily]
Creator of the Grammy Awards announces a touring festival of world-class musicians in China. Chen Jie reports.
Music fans in China can expect to experience world-class live music, with the Recording Academy, creator of the Grammy Awards, announcing that it will hold a Grammy Festival in the country in 2018.
The festival, a touring show featuring Grammy-winning artists, was announced on Aug 3 in Beijing.
"China continues to expand and grow its role as a force in attracting and engaging world artists," says Neil Portnow, 69, chairman and CEO, Recording Academy.
The US-based academy and the Chinese company Bravo Entertainment will hold the festival in China.
"We hope the Grammy Festival not only further elevates the music industry but also engages other industries to create powerful, global intellectual products," he told reporters in Beijing after the event was announced.
"I know some Chinese classical musicians such as Lang Lang, Tan Dun and Wu Tong who won this year's Grammy Awards with Yo-Yo Ma's Silk Road Ensemble, but we want more young musicians. I know hip-hop and jazz are also growing in China. That's what we want to do-to discover next-generation musicians for different kinds of music, to encourage them there is good future in music industry," he said on Aug 3.
During the news conference in Beijing, a traditional Chinese band gave a drum performance.
Portnow says that if Grammy-winning musicians saw that, they would go: "I want to play with them onstage."
"If you watch the Grammys, you know the favorite thing we like to do is unusual combinations, not predictable, combination of different generations, different genres and so this is perfect to mix up."
But Portnow did not reveal the festival dates for next year.