Program helps kids to turn trash into pencils, soccer balls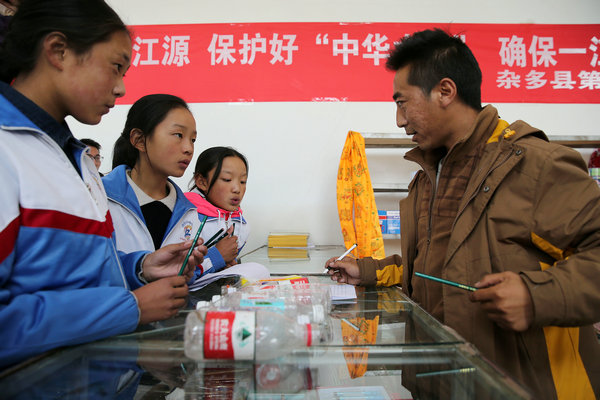 Youngsters join in an environmental protection program in Yushu Tibetan autonomous prefecture in Qinghai province. [Photo by Wang Zhuangfei/China Daily]
Two waste bottles for a pencil, 500 grams of unrecyclable waste for a notebook, and 15 kilograms of waste paper for a soccer ball or basketball-the equations are cemented in the mind of Nyima Dbangmo and all other students at the Second Middle School of Zadoi county, in Yushu Tibetan autonomous prefecture of Qinghai province.
After every weekend, Nyima Dbangmo holds a plastic bag of trash, such as used water bottles, as she returns to school from home.
The garbage collected by the 14-year-old basically paid for her stationery items last semester, from pencils to notebooks, she says.
"It is habitual for us to pick up the garbage from the ground."
Since last March, a program called "Garbage for Stationery" has improved the campus environment and enhanced students' awareness of the environment in six middle schools in Zadoi county along with ecology and environment protection classes.