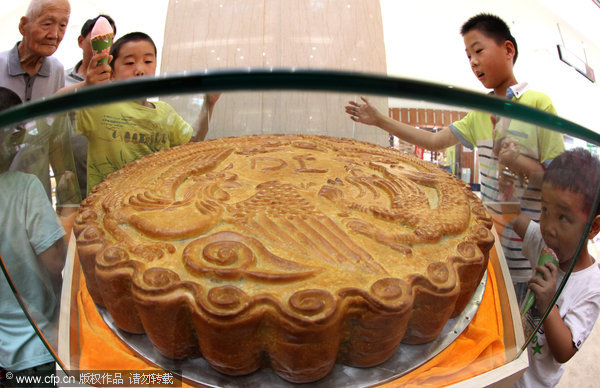 A huge mooncake is placed at a mall to attract customers in Xuchang city, Henan province, Aug 21, 2014. [Photo/CFP]
I love Chinese festivals. I not only enjoy the extra holiday time, but I like learning the story and meaning behind each occasion, joining in the celebratory customs and most of all tucking into the traditional treats associated with each event.
Armed with my usual enthusiasm I began reading up about the quickly approaching Mid-Autumn Festival, which falls on Sept 8 this year.
The story of the "moon fairy", which I was taught at primary school in Hong Kong, quickly came back to me and stirred up childhood memories of munching on mooncakes.
Eager to taste the round, flaky pastries filled with egg and lotus-seed paste once again, I asked my Beijing friends where and when I would be able to get my hands on the sweet treats.
The responses I got were not quite what I had expected. Apparently I forgot to remove my rose-tinted glasses when I thought about my mooncake memories.
First of all, unlike most other foods in China, mooncakes are expensive.
In contrast to the huge, steaming bowls of noodles I regularly gorge myself on for dinner for just 18 yuan ($2.93), a basic box of six mooncakes can set you back 100 yuan, with high-end versions closer to 400 yuan.