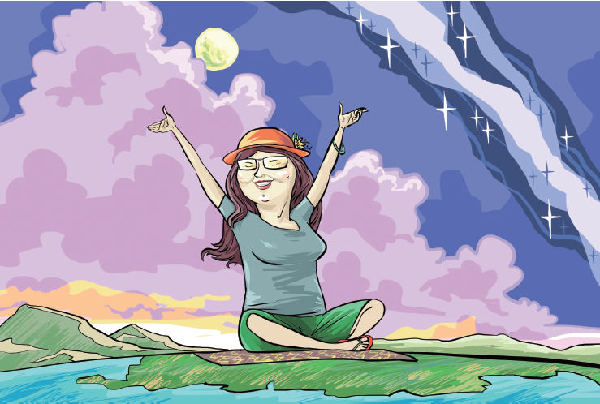 Zhang Chengliang / Shanghai Star
I arrived in New Zealand on a sunny day in fall. As soon as I left the airport, the blue sky and unique plant life caught my eye. The natural environment continues to impress me as I explore this beautiful country. Someone once wrote, "Spend any time in New Zealand at all, and you will get the distinct feeling that God has only just finished up his work." That is true. If there was a Garden of Eden, I think it would look like New Zealand.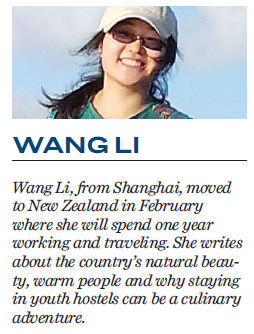 New Zealanders, nicknamed "Kiwis", are generally very nice and warm. The Maori culture is interesting. However, the most attractive part of New Zealand is defi nitely the natural beauty. The stunning mountains in the Lord of Rings may be what first comes to mind, but that's not what makes New Zealand so charming.
What is remarkable about the country are the many rolling green hills, the sapphire-like sky and ocean, rays of sunshine that pierce the clouds, rainbows that appear after refreshing rains, magnifi cent sunrises and sunsets, breathtaking starry nights with The Milky Way spotted across the infi nite darkness and all the birds and animals which live so freely and peacefully.
Drive for one hour anywhere in New Zealand and you will be surprised and touched by God's creation. With so many beautiful mountains, beaches and areas of bush, you will often have an amazing stretch of nature all to yourself. I am often the only person in the bush and yes, I nearly got lost once.
When you are alone in the wilderness, far away from the crowds and the city, you can experience a great connection with the universe and deep satisfaction within. I hold a Working Holiday Visa, which allows me to enjoy great freedom. Freedom doesn't mean I can do anything I want, but I can enjoy everything I do. It's so easy to enjoy life and work in New Zealand because every day is different.
New job, new places, new people and new weather all add to the spice of life. I have picked kiwi fruit under thick canopies, graded kiwi fruit on the night shift, fed sheep and chickens, repotted plants, painted a cottage, and worked in a pizzeria. I have climbed mountains, visited waterfalls, played on the beach, and lost my glasses in the Pacifi c Ocean. Come on, ocean! What do you need glasses for!
I've seen a lot of the North Island and will soon visit the South Island, which is said to be even more remote and beautiful. Food is another thing worth mentioning. In a BBH (the network of youth hostels in New Zealand), you can meet people from all over the world who cook all sorts of food. If you are curious, you can learn a lot of recipes. You can also try different types of food, which most of the time is delicious. Trust me - just open your mouth and your mind and you will no longer believe that Chinese food is the best. The world is filled with yummy food just waiting to be explored.