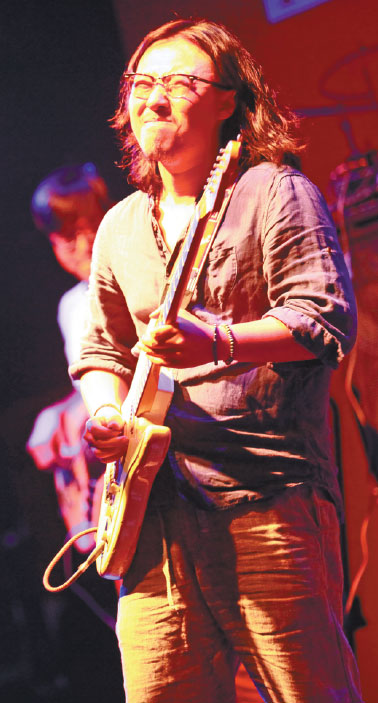 With his debut English album, 01, Xiao Fei performs at Tango Club, one of the most popular live house venues in Beijing. Photos Provided to China Daily
In the age of the Internet, bilingual talk show Fei Yu Xiu keeps listeners tuning in with its free-flowing banter and mix of today's top music. Chen Nan reports.
Many radio listeners in China start their day with Fei Yu Xiu, a bilingual radio talk show on China Radio International. From Monday to Friday, 9 am to 11 am, the two hosts, Xiao Fei and Yu Zhou, tell funny stories, sharing their views on different topics and play music.
"It's a ritual for many people like me to listen to the show every morning," says Sun Hong, 27, who lives in Shanghai and is one of the show's big fans.
Sun, a graduate of Tsinghua University's Journalism and Communication Department, directed a documentary titled Fei Yu Xiu, which will be shown at cinemas in September to mark the show's 10-year anniversary.
"I used to focus on people living on the edge of society, such as migrant workers and craftsmen. When I found that there are many people like me who listen to Fei Yu Xiu, I wondered, 'Since we have so many ways to entertain ourselves nowadays, why is a radio show so popular?'" she says.
Sun spent the last five years interviewing fans of the show and shooting behind-the-scenes stories of the two hosts. "Radio hosts usually do lots of preparation to ensure the shows sound seamless, but Fei Yu Xiu is different," she says. "I like the hosts' witty and improvised conversations and the music they play during the broadcast. They are not afraid of making mistakes. They just laugh over it and make fun of themselves, which is so natural."