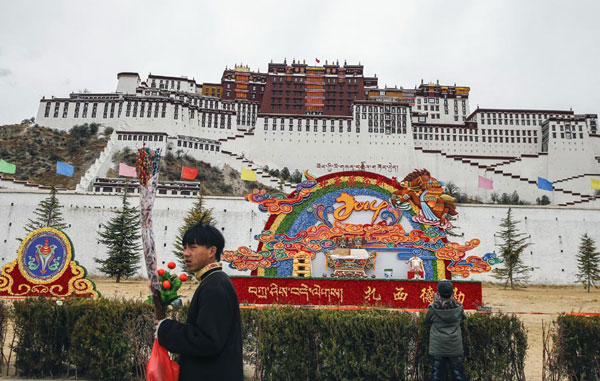 The Potala Palace in Tibet. [Photo by Zhang Hao/for China Daily]
LHASA - In a children's clothes shop in downtown Lhasa, Choizong, 73, buys sportswear and a pair of football shoes for his six-year-old grandson.
The grandson loves playing football with his father at an indoor football field in the suburbs of the capital of Southwest China's Tibet autonomous region.
"We mainly wore wool robes covered in patches in our childhood," remembered Choizong, who is happy that his grandson was born in an era of rapid development in Tibet.
In 2013, the per capita net rural income in Tibet reached 6,578 yuan ($1,067) and the per capita disposable income of urban residents exceeded 20,000 yuan. The average lifespan in Tibet has risen to the current 68 years from 35.5 years in the 1950s.
Most foreigners do not know Tibet was once one of the most impoverished places in the world. Before 1950, more than 95 percent of Tibet's population were serfs and 90 percent were illiterate.
Since British novelist James Hilton introduced the fictional "Shangri-la" to Western readers eight decades ago, foreign minds have often perceived Tibet as a mystical, harmonious paradise. They believe in a fantastical Himalayan region, cut off from the rest of the world, a permanently happy land where most inhabitants are meditative lamas clad in crimson robes, twirling prayer wheels and chanting mantras.