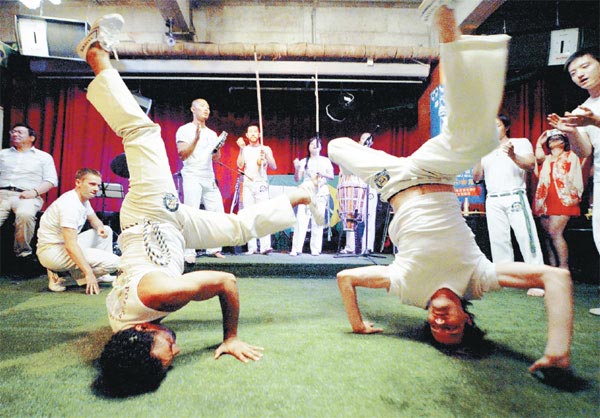 Members of Capoeira Mandinga Beijing perform the Brazilian martial art at Migas restaurant in Beijing to celebrate the opening of the World Cup. Photos by Wei Xiaohao / China Daily
Brazilian fans had no trouble staying up all night as the World Cup kicked off in their home country. Mike Peters reports.
There is a man in Brazil who has been dubbed "super fan" for dressing in green and canary yellow ever since his country last won the World Cup in 1994. We're not just talking sports jerseys and casual T-shirts: He wears the team's colors from his dress blazer to his underwear - and when he's driving around town, he "wears" a green-and-gold painted Volkswagen Beetle. He would have felt right at home in Beijing's vivacious Sanlitun district around midnight Thursday, when soccer fans decked out in those colors streamed over to Nali Patio for the World Cup kickoff game. The Brazilian embassy had rented Migas for a party that was clearly the hot ticket in town, as friends of the embassy - and more than a few of their friends - swarmed the restaurant and bar.
With four hours to eat, drink and be merry in Portuguese until the 4 am game time, the crowd kept bartenders hopping with shouts of "Caipirinha!". That starts with cachaca, which is what you get when you ferment and distill sugarcane juice. Mix it with sugar and lime, and you've got Brazil's national drink.
Could downing the sweet brew provide fuel for the country's sixth World Cup title?
The crowd in Migas' sleek industrial space seemed to figure it couldn't hurt - and it's working so far after an initial scare. What went into the record books on Friday morning was Brazil's first "own goal" in World Cup history, putting Croatia on the scoreboard 10. But when Neymar rescued the game with a brilliant goal 18minutes later, the crowd stopped sipping cocktails long enough to scream themselves all but hoarse.