Unraveling the secrets of the Silk Road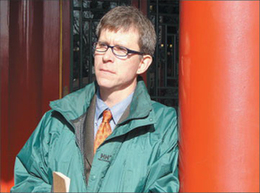 James Millward, historian and Georgetown University professor. Provided to China Daily
Traditional Chinese medical practitioners have often promoted the Chinese belief that foods have intrinsic "hot" and "cold" properties, but readers might be surprised to learn that the idea actually originated in Greece with the physician Hippocrates (460 BC).
His medical theory of "humorism" later spread to India and then on to China - a proliferation made possible by the Silk Road, a new book argues.
In The Silk Road: A Very Short Introduction, historian and Georgetown University professor of intersocietal history James Millward demonstrates that many of the cultural signposts we associate with specific cultures are actually the result of the famous "road" linking East and West.
Furthermore, what we imagine to have been a linear super-highway was actually a network that also spanned north and south, and depended heavily on nomadic groups and farming communities along the way.
"I wanted to challenge some of the perceived wisdom and assumptions, and point out the many ways in which the Silk Road is both less and more than we generally talk about," Millward says.
"Over a millennium's period of time, we've had an ongoing process of exchange that has resulted in a trans-Eurasian cultural substratum. There are many, many ways in which our cultures are actually more similar than we think, and this shared cultural content began not with modernity, but actually in ancient times."
Another example of this phenomenon is traditional blue-and-white "china" porcelain, Millward notes.
The intricate pattern most often associated with the ceramic actually originated with the Mongol empire, and the blue ink was an import from Iran, also only made possible by the Silk Road.
The Silk Road was first coined as such by the German geographer Ferdinand von Richtoffen in 1877; the concept was popularized in books and television in the 1970s and '80s.
The Silk Road has long been romanticized and exoticized as a symbol of globalization, Millward says.
Yo-Yo Ma's Silk Road Ensemble draws upon that same imagery and symbolism. Much of the interest in the Silk Road is linked to the positive connotations of a throughway that sparked the process of globalization that continues today, Millward says.
For many casual observers of history, there is a pervasive assumption that civilizations of different religions or philosophical backgrounds must inevitably clash. But the history of the Silk Road reveals much about the way in which cultural communication has mitigated those tensions and has intrinsically linked various cultures, he says.
Millward, who has taught the history of the Silk Road at Georgetown University, described his approach to the book not as an encyclopedic-style history lesson but an attempt to engage readers in his own opinions about an area of study to which he has devoted much research and time.
"As a historian, I am motivated by the hope of correcting mistakes about how people understand the past," he says.
"When most people think about the Silk Road, they have a group of set images of camel caravans going over the steppes and deserts. While that's correct enough, there's so much more to understand."