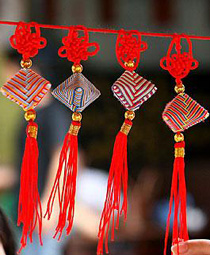 Locals are likely to stay at home for the Dragon Boat Festival holiday this long weekend, even though prices for tours and accommodation, for the first time, will not rise during such a national break.
Industry sources said the holiday occurred right before the college and high school entrance examinations, which meant many families would stay at home so students could prepare for the tests.
The earthquake in Sichuan Province had also affected the tour market for the holiday.
Shanghai CYTS Tours said they would not promote overseas-bound travel or long-term travel within the country for the holiday. "Due to the earthquake in Sichuan, the province won't accept tour groups before July," said Liu Xiaojun, an official with the agency. "Yunnan, Shaanxi and Gansu provinces were also affected by the quake, so few people will choose there as their tour destination."
As short-term travel will be in demand, the Shanghai Sightseeing Bus Center will release nine new products. The tours include visiting the zongzi (glutinous rice dumplings) processing factory in Jiaxing and picking fresh fruit in Hangzhou.
According to online tour service company Ctrip.com, Jiaxing in Zhejiang Province is expected to be popular as it is famous for zongzi, a traditional snack of the Dragon Boat festival.
Ningbo and Xiangshan are also tipped to be popular.